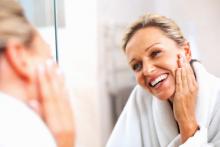 Beauty & Style
Skin
10 Everyday Tips to Achieving Great Skin
We all know that exercise and proper nutrition are huge factors in getting and maintaining great skin, but there are some other "must dos" to get your skin as healthy and youthful-looking as you can! Here are 10 simple, everyday tips on how to achieve great skin:
1. Keep your skin clean by using a gentle cleanser in the morning and at night. Always go in an upward motion when cleansing your face. It's important that you always start off with clean, moisturized skin before you apply any make-up and before you go to bed. Ladies, do this no matter how tired you are. Cleanse your face in the morning with a gentle cleanser and cool water. Unlike warm water, cool water constricts blood vessels and can help diminish redness and puffiness around the eyes.
2. Apply toner to freshen up your skin. I like to use large cotton rounds as my applicator.
3. Apply a serum to your face, neck and chest to begin keeping your skin hydrated. Serum is the best way to bring proper nourishment to your skin. After your serum, apply a daytime moisturizer that contains at least a 15 SPF to protect your skin from the sun's harmful rays. Once again, apply to your face, neck and chest. I even suggest applying your SPF moisturizer to the back of your hands. They need protection, too!
4. Try to get a facial once a month. If you can't get a professional facial, treat yourself to an at-home facial at least once a week. Use your mild cleanser, then exfoliate with a gentle scrub that contains exfoliants that are round and non-abrasive. Larger exfoliant shapes can injure the skin and cause irritation.
5. Apply a facial mask after exfoliating. Try using simple egg whites as your mask. Apply the egg white and wait until it hardens, then rinse it off and see how shiny and smooth your face looks and feels!
6. Shorten your shower. A long, hot shower may feel fabulous but it's drying out your skin. Take lukewarm, short showers. Moisturize within 3 minutes of stepping out of the shower. By doing that, you will lock moisture into you skin.
7. Sleeping on your face can cause "sleep line" wrinkles over time. Avoid sleeping on your stomach if you can; try sleeping on your back or side, which is best. Definitely use a silk pillow to insure no wrinkles and keep your hair looking better, as well.
8. Get a good night's sleep! There's a reason looking well-rested goes hand in hand with brighter, healthier skin. A good night's sleep allows your skin to rejuvenate itself, repair free-radical damage, and build new collagen.
9. Put your eye cream and moisturizers in the fridge to keep them cool, which makes these products even more beneficial. When you wake up in the morning, your eyes can be puffy and dark; but once you massage the cool, soothing lotions and creams onto your face, your puffy eyes will disappear. The coldness of the fridge will not only help your eyes and face but also give your product a longer shelf life.
10. Even when you're steering clear of the sun, or it appears to be a cloudy day, always be sure your makeup foundation or moisturizer contains at least a SPF 15 or higher…I go higher!