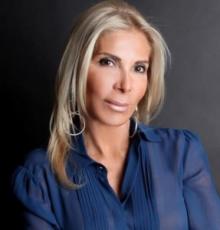 10 Ways Your Makeup Can Make You Look Younger
By Andrea Warshaw-Wernick
When it comes to trying to keep yourself looking younger, your face is obviously Priority #1. While plastic surgery, fillers, Botox, and other tools are available, you don't always have to go that route. Just changing the way you apply your makeup can take years off your face.
Here are my 10 basic beauty tips for how to give your face an immediate "lift", without a visit to the doctor's office. These beauty tricks are definitely a great way to achieve a more youthful appearance:
1) Perfect Skin – Add an illuminator to any moisturizer for added skin radiance or buy an illuminating-tinted moisturizer with an SPF to give you that youthful glow.
2) Smooth Skin –Use a pore minimizer to smooth your skin and fill your pores.
3) No Marks– Retouch your brown marks and red veins on your face and chest with a concealer pencil. Choose a shade close to you skin tone. Blend the pencil with your pointer finger and apply your tinted moisturizer. It's easier than laser and less expensive!
4) Smokey Eye– Give eyes a modern twist. Get the appearance of texture by using metallic eye shadows for a fresh, new look. Add a pop of silver, gold or pewter for an elegant, dramatic eye. Tip: Dilute the shadow by using a wet brush. This will help keep the metallic' muted and easy to blend.
5) Full Brows– Strong full brows are back! Fill in with brow powder or pencil to create the illusion of a fuller, thicker, natural-looking brow. Match your brow color or choose a shade to cover gray. Then fill in your brow diagonal to the front of your eye and finish your back brow line out to the side diagonal to the end of your eye.
6) Full Lips– Change your lip color to a lighter shade for an instantly younger, more youthful mouth. Go a little further by adding just a dab of gloss to the middle of both your upper and lower lips. This gives you the look of a fuller lip. If you must line your lips, use a neutral shade and never go over your lip line.
7) Winged Liner– This creates a flirty sexy eye this season. A simple trick to create a winged eye effect is to take any business card and place it on a diagonal from the corner of your eye up and follow that straight line with the brush. You will create the perfect cat eye. There is nothing like a great eye line to make your face stand out in a crowd!
8) Curl Lashes– As we get older our lashes tend to get straighter and thinner. Use an eyelash curler to make your lashes" curl like a girl".
9) Add Volume to Your Lashes– When applying mascara, wiggle the wand as you coat the lashes from root to tip. This will help dispense mascara more evenly and prevent lashes from clumping together.
10) Create a Larger Eye Look– Add mascara to your lower lashes. Use a flat, angled eye shadow brush. Dip in the mascara and start at the roots. It's an eye-opener!
Andrea Warshaw-Wernick comes to your rescue when your life needs a redesign inside and out. Andrea, who is in her 60s but looks like she could be in her 40s, is an expert in the stage of a woman's life she calls "Chapter Two". Andrea is the founder of the boomer website http://fabatanyage.com/ and she launched the Fabulous Forever Program http://fabatanyage.com/fabulousforever/ to help women 45 years and over achieve their life and style goals.
Want Andrea to help you refresh your life? Contact her at andrea@fabatanyage.com.