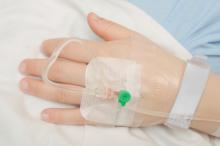 3 Questions To Ask About The Intensive Care Unit
3 Questions to Ask About The Intensive Care Unit
Looking After Your Loved One In The ICU
The Medical Intensive Care Unit, or what people commonly call the ICU, can be just that – intense.
Most patients are admitted because they have a serious illness that requires critical, round-the-clock care. These people have often developed pneumonia, sepsis, or multiple organ failure. Feelings can run high, especially for patients and their families.
When someone you care about is in the ICU, you might not even know what to ask attending doctors and caregivers. Here are three questions to ask to stay informed:
1. How can I get updates about my loved one's condition?
You should expect an update on the status and treatment plan for your loved one each day from the nurse and one of the physician team members. You should also ask how and when you can reach medical staff for updates.
When your loved one is admitted, ask your team of physicians for the "on-call" telephone or pager number you or your loved one should call if there is an urgent question.
Remember, you can always ask to speak to the attending physician by asking the nurse or one of the other team members. The afternoon hours are the best time of the day for physicians to speak with you.
2. Who is part of my loved one's medical team?
A variety of physicians will work in shifts to care for your loved one. It is also important to know that the number of physicians available at night is lower than during the day. Best times to speak to the physicians for updates is in the afternoon (between 1-5 p.m.).
The physician team is made up of the following:
Attending Physician –This doctor specializes in pulmonary or critical care medicine, and oversees all of your loved one's care.
Fellow –This doctor is receiving additional training in pulmonary medicine and/or critical care. He or she will likely help the attending physician with procedures and care management.
Resident – This caregiver is a licensed medical doctor who is continuing training in internal medicine post med-school. He or she works closely with the attending physician and fellow.
Intern — In this case, an intern is still a licensed medical doctor, but he or she is in the first year of training after medical school. An intern may be involved in performing some tests and daily exams.
Other caregivers include a bedside team, who is made up of the following:
Registered Nurse (RN) – An RN provides you and your loved one information about medicines, tests and procedures. The RN will be the most available to you since he or she is assigned to no more than one other patient in the ICU, and it is typically the patient in the next room. The same number of nurses are available at nights as during the days.
Respiratory Therapist (RT) – The RT monitors a patient's breathing and cares for those on mechanical ventilators (e.g. breathing machines). The RTs care for several patients (6-10) at the same time and may take longer to be available to answer your questions than an RN.
Other people are also involved in your loved one's care. These include:
Pharmacist (PharmD) – The pharmacists are available every day for the physicians and nurses to monitor the drugs your loved one is receiving and to answer questions from the physicians and nurses.
Case Manager/Social Worker — Case managers and social workers are available to provide individual and family counseling as well as information on financial assistance, support groups, lodging, employment and disability information, among other needs.
As you can imagine, multiple shift changes occur, so familiarize yourself and your family with each member of the medical team.
3. What sort of recovery should I expect?
The recovery time in the ICU can be highly variable (a few days to a few weeks) because of the range of cases. Stay in touch in a continued, open relationship with the attending physician. This doctor and the medical team can advise you on the condition of your loved one's health and next steps.
And just in case, ask whether your loved one is an "admitted" patient or there for "observation." That shouldn't happen in an ICU, but it's best to ask. Insurance doesn't cover hospital stays for "observation."
Reprinted with permission from health.clevelandclinic.org. For more information on this subject, click here.