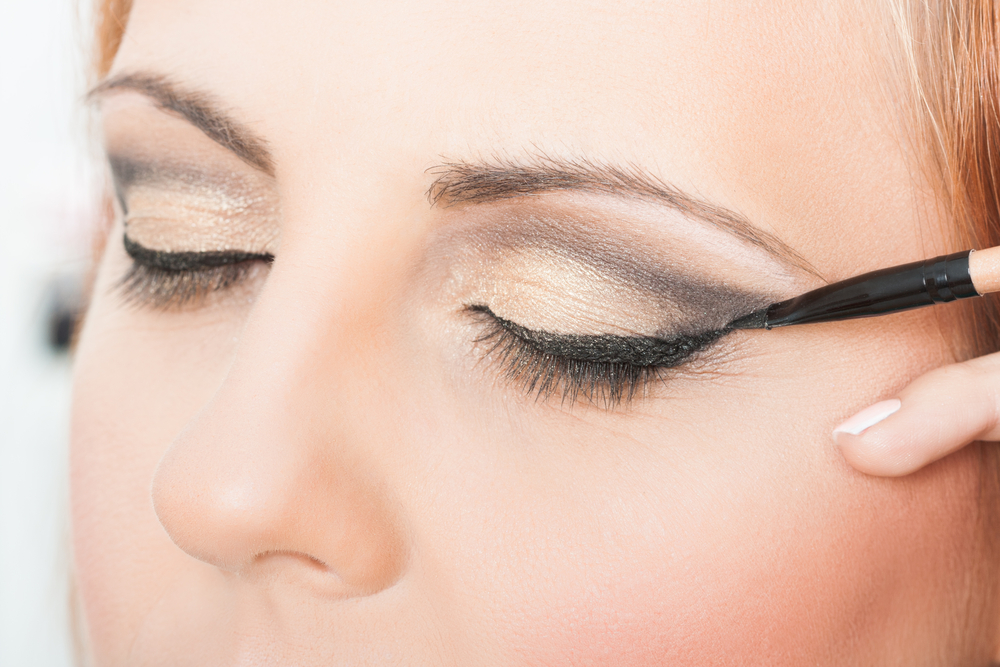 Beauty & Style
5 Tips on How to Reinvent Your Look

As we mature, so do our faces. Therefore, our makeup regime must also change.
These minor makeup tips are actually major repairs in helping us look younger in just minutes.

Here are 5 top tips on how to reinvent your look:
1) LINE IT! 
The best look-younger-now eye tricks are to reinforce the lash line. Eyelashes thin out and seem to lose definition.  To deal with this issue, open your eye by lining it with either a very soft brown, sharp-edged eyeliner pencil for a subtle look, or a black eyeliner pencil for a more distinct look. Wing the liner upward slightly as you finish your outer corners: Older eyes tilt downward, so DON'T follow your natural curve but continue up to create a little curve. "
An easy trick to keep liner straight is to point your chin up and look down, so your lids are half-closed but you can still see to apply liner.
If you want a bolder look, a simple trick to create a winged eye effect is to take any business card and place it on a diagonal from the corner of your eye up. Now follow that straight line with the brush. You will create the perfect cat eye. There is nothing like a great eye line to make your face stand out in a crowd!
2) Fill it! 
Your eyebrows should complement your face rather than detracting from it. They frame your face! Unfortunately, as you age, your eyebrows thin out. Fill in your brow diagonal to the front of your eye and finish your back brow line out to the side diagonal to the end of your eye. Always fill in sparse spots using short, feathery strokes and continue the line by adding the tail of your brow.
A taupe pencil is usually the universal color for most skin tones.  Never tweeze the eyebrow! If you feel that your eyebrows need shaping or further grooming,
see a professional or try threading! 
 

3) Brush it! 
Lashes can make eyes look more youthful and awake. To achieve the open eye look, use an eyelash curler. If you want even better results, blow hot air from your blow dryer on to your eyelash curler and really set your lashes! When applying mascara, wiggle the wand as you coat the lashes from root to tip. This will help dispense mascara more evenly and prevent lashes from clumping together.
4) Dab it! 
As you age, you have more to conceal. However, certain concealers can draw attention to lines and wrinkles.You want a product that hides dark spots, redness and under- eye circles without getting cakey.That means you want a highlighting liquid cover-up in a concealer pen. Pen-style concealers cover all your imperfections without adding lines. The light shades makes you look bright-eyed, and these concealers are moisturizing. I often use my concealer not only under my eyes but also under my brow bone and in my nasolabial folds to highlight and soften unwanted lines. 
 

5) Trace it! 
Lips lose their line over time and you need to rebuild their shape. Using a natural color lip pencil, trace the lip line, building back your girl-like lip shape and gradually fill in the entire lip. Add a moisturizing lipstick over your lips to avoid the drying effect of just using the pencil. Change your lip color to a lighter shade for an instantly younger, more youthful mouth. Go a little further by adding just a dab of gloss to the middle of both your upper and lower lips. This gives you the look of a fuller lip.
I know it sounds like we are disintegrating, but we can easily remedy any of those disappearing signs of aging with some simple make-up magic!
New York City's celebrity Life&Style coach and anti-aging expert Andrea Warshaw-Wernick comes to your rescue when your life needs a redesign inside and out. Andrea, who is in her 60s but looks like she could be in her 40s, is an expert in the stage of a woman's life she calls "Chapter Two". Andrea is the founder of the boomer website http://fabatanyage.com/ and she launched the Fabulous Forever Program http://fabatanyage.com/fabulousforever/ to help women 45 years and over achieve their life and style goals.
Want Andrea to help you refresh your life? Contact her at andrea@fabatanyage.com.