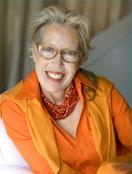 Style
5 Ways to Perk Up a January Wardrobe
Sherrie Mathieson is the author of "Forever Cool: How to Achieve Ageless, Youthful, and Modern Personal Style" and "Steal This Style: Moms and Daughters Swap Wardrobe Secrets." We asked her for tips to give a winter-weary wardrobe some pizzazz. Here's what she told us:
1.    Add an orange wool scarf. This bright shade is a better choice than red because it's unexpected. It works best if your basic palette is neutral. (Don't team it with black or you'll risk looking like a Halloween throwback!) The accent of sophisticated color will draw attention to your face — and camouflage a less-than-perfect neck. No need to fork over designer prices. We found affordable versions at Target and Amazon.
2.    Look for classic olive green Hunter rubber boots to wear on sloshy days. This is an ageless style that's fun without being too funky. Pull the boots on over casual jeans or go ahead and wear them with black pants for work. You can change to shoes when you get to the office if you like, but you'll arrive with dry feet even if you step in a puddle or two along the way. Zappos has a pair we like that goes for $125.
3.    Consider black patent boots paired with a roomy black patent everyday bag. The retro look has a go-go feel and it's multi-seasonal. Let it carry you through stormy weather and on into April showers. Sears sells a pair of Clubwear boots for $50.60 and an Angie and Lola hobo bag that's on sale for $15, down from $85!
4.    Invest in a whinsical leopard print umbrella to add some cheer to those days when you have to go out in rain or sleet. Animal prints are still the rage, after all! Totes has a compact leopard umbrella for $26.99 that opens and closes automatically so you won't be caught fumbling in a downpour.
5.    Finally, if you can still find one in the last winter coat sales, pick a neutral-colored down style or a 3/4 or knee length jacket. These choices will wear better than wool —  and keep you warmer, too. We checked and saw that Kenneth Cole still has a great pick available at only $77.99.
Now you're all set to head into winter with a some great new looks that didn't set you back much at all!
Sherrie Mathieson is available for style consulting and speaking events. Please visit her web site at http://www.sherriemathieson.com/