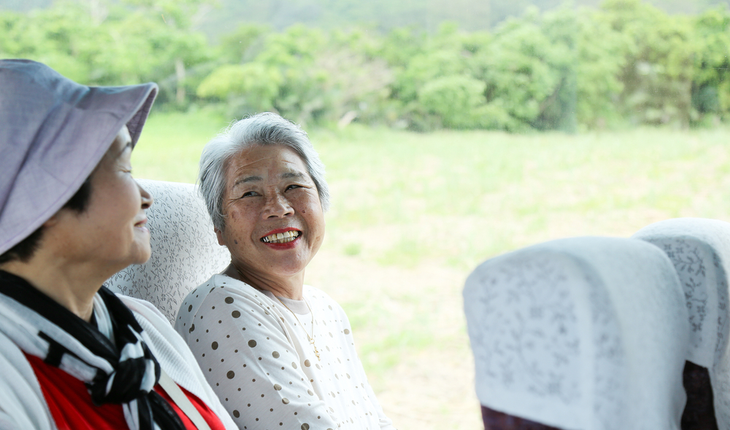 8 Easy Ways to Stay Active and Healthy While on a Bus Tour
Bus tours are a great way to see the country as you travel to your destination. Maximize the enjoyment of your next bus tour with these tips to help you feel your best, including healthy snack ideas, easy stretches you can do on the bus, and simple ways to get a little exercise while exploring each destination.
Stay hydrated
Staying hydrated is key to making the most of your bus tour and ensuring you feel your best, especially in the summer months when the weather is hot. Avoid sugary juices and caffeinated beverages, and stick with drinking plenty of water. If you'd like a little flavor, add some fresh fruit, mint, or cucumber to your water bottle for a refreshing twist.
Walk and stretch during breaks
When you stop at a rest area, take advantage of the opportunity to walk around, stretch, and explore a bit rather than staying on the bus and waiting for the tour to continue. This will keep your body feeling relaxed and avoid restlessness when you get back on the road.
Practice deep breathing
Practice deep breathing on the bus or when walking around during a stop on the tour. Taking a few minutes to breathe slowly and compose yourself can help you relax and fully enjoy your bus tour experience.
Pack plenty of healthy snacks
A good mix of healthy snacks is a great way to keep your energy up during your tour. Foods like fruits, nuts, hard-boiled eggs, carrots and hummus, and peanut butter are easy to eat and provide the right amount of fat and protein to keep you satisfied on the bus and while you explore your destination. Avoid overly sugary foods, like candy or granola bars, that will provide a short-term jolt but sap your energy later in the tour.
Stretch on the bus
Stay limber and refreshed during the longer driving stretches with some simple stretches you can do right in your seat. Take a deep breath as you stretch your arms over your head, rotate your body side to side to loosen up your back and midsection, and roll your head in big, slow circles to stretch out your neck. Repeat as often as necessary.
Remember your medications
It's crucial to remember all medications, prescription pills, and health-related items that you need throughout the day. Look ahead at pharmacies near your tour's destinations, so if you need a last-minute prescription refill or just need to pick up something over the counter, you'll know where to go so you can get what you need quickly.
Talk with other tourists
A bus tour is a great way to meet other people, and engaging with the other tourists on the bus is all part of the experience. Chat with your fellow travelers about their favorite aspect of the trip and what they would consider coming back to visit again one day. This makes your excursion more interactive and will keep you engaged throughout the entire tour.
Bring comfort accessories  
If you use special pillows, neck cushions, or other comfort accessories, make sure you have them with you before you board the bus. This will make your trip much more relaxed and will allow you to enjoy the tour and destinations with a few comforts from home.
Jeffrey Ferraro is Director of Marketing and Sales for Diamond Tours, America's leader in group bus tours. With more than 20 years' experience in the bus tour industry, he enjoys writing about sights to see and memories to make. Learn more about Diamond Tours on Select Traveler Conference.