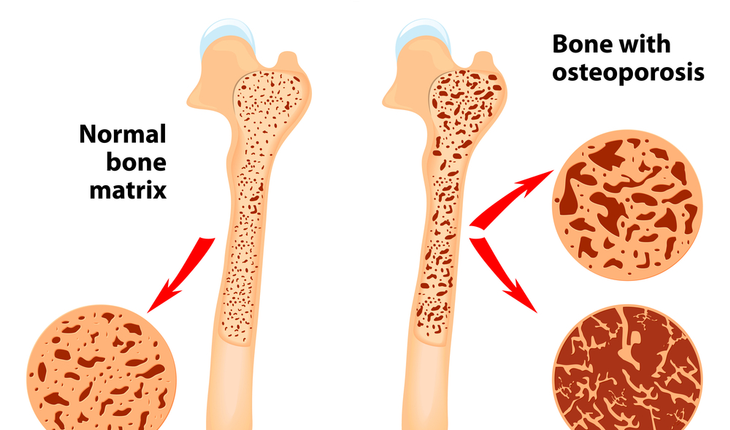 Osteoporosis
Are You at Risk for Osteoporosis? 3 Questions to Ask Yourself for Better Bone Health
May is National Osteoporosis Month, and it's the perfect time to reevaluate the steps you're taking to make bone health a priority. Osteoporosis is a condition that results in bones becoming fragile due to density loss over time. 8.9 million fractures occur each year because of the brittle bone condition, and 53 million Americans are at risk for this type of fracture every day.
Ask yourself these three questions to understand the risks of developing the brittle bone condition so that you can strive for better bone health well into your older years.
Am I living an active lifestyle? 
Americans are living an increasingly sedentary lifestyle, and this lack of activity spurred on by hours of sitting and eating has spurred on an array of health problems including obesity and a heightened risk of heart attack. Inactivity doesn't just impact the number on the scale, however. It plays a major role in bone health and can keep bones strong throughout your life. Incorporate these two types of exercises into your daily routine to lower your risk of osteoporosis:
Weight-bearing exercises – Running and jumping rope are great ways to build up bone density and keep them strong. These high-impact aerobic exercises are ideal for those who do not yet have osteoporosis. But if you've already been diagnosed with the brittle bone condition, stick to low-impact exercises like walking or using the elliptical to decrease your risk of fractures.
Muscle-strengthening exercises – Strength training has long been touted as the key way to get into shape, and these types of exercises will also increase muscle mass and maintain bone density. Use free weights, resistance bands, and even your own body weight to strengthen all major muscle groups.
Am I taking any medications that could put me at risk?
Osteoporosis can also be spurred on by certain medications, and the elderly population has the greatest risk for a drug-induced condition. Before agreeing to take any medication, talk to your doctor about the possible side effects of bone density loss that the prescription could spur on. Two examples of common medications that could impact your bone health are:
Invokana – This SGLT2 Inhibitor is prescribed to type 2 diabetics to help them regulate their blood sugar levels. But recent studies have linked the medication to an increased risk of bone fractures, kidney failure, and below-the-knee amputations. Despite the drug's effectiveness for some patients, others have filed Invokana lawsuits against the manufacturer because of its severe side effects.
Corticosteroids – This class of medication, which includes the common drugs cortisone and prednisone, is often prescribed to individuals with rheumatologic inflammatory diseases like lupus and rheumatoid arthritis. Despite their ability to ease pain and decrease severe inflammation, corticosteroids have also been linked to the development of osteoporosis, glaucoma, and high blood pressure.
Am I eating a well-balanced diet?
In a study conducted by the Hospital of the University of Pennsylvania, researchers found that Americans eat enough salt each day to damage their heart muscles. In addition to the slew of cardiovascular issues it can cause, a high sodium intake can spur on calcium loss, which weakens bones gradually over time. To protect your heart, your waistline, and your bone density, strive to consume less than 2,300mg of sodium each day. Foods naturally low in sodium include fresh fruits, vegetables, and whole grains, so add these items to your shopping list the next time you head to the grocery store.
Morgan Statt is a health & safety investigator with ConsumerSafety.org, an organization that provides health, safety, and product information to consumers in one easily searchable database. She covers an array of topics including health conditions, drug safety, and trending news. When she isn't writing, she can be found scouring Twitter for the latest in consumer news to support her organization's efforts. Follow ConsumerSafety.org on Twitter for trending health news, advocacy initiatives, and product recalls.