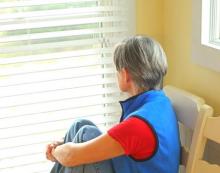 Living Single
Are You Lonely?
If you're a Boomer who's living alone, you're part of a growing phenomenon. Close to 30% of the older population is in what the Census Bureau calls "single person households," and the number skyrockets to almost 50% for women over the age of 75. Yet while mid-lifers who are yearning for some "me time" may think that flying solo sounds great, the truth is that coming home to an empty house or apartment night after night can bring on depression as well as a host of related physical ailments.
And no wonder. For most of us, the stark contrast between the bustle of the married-with-children years and the eerie calm of being a widowed or divorced empty nester comes as an unwelcome shock. One 60-something put it this way: "I don't have anybody to play with. I'm fine during the workday, but evenings and weekends are bad. There's nobody to go out to dinner with or to a movie. There's nobody who says 'How was your day?' "
Does that sound familiar? Then read on for some strategies to put the joy and the health benefits of companionship back in your life:
Reach Out and Help Someone
Much has been written about the "helper's high" phenomenon that happens when you make a difference in the lives of others. You get a genuine rush of endorphins, the happy hormones, and you may very well end up connecting in a truly meaningful way with the people you meet while you're volunteering. As a start, visit Idealist.org and Guidestar.org for lists of causes and charities that might be a good fit with your skills and passions.
Join a Group or a Club
A book club, a scrapbookers club, a bridge club, a Mahjong club, an amateur thespians group – these and many other possibilities can become pleasurable ways to get out of the house, meet others, challenge your brain, and share a good laugh or two. You'll have a reason to pick out a great outfit, do your hair and make-up, turn off the TV, and spend fewer hours talking only to the cat!
Take a Class
The beauty of paying tuition in full is that once you've plunked down your hard-earned money, you're very likely to make the effort to get to the sessions for whatever course you've picked. You could sign up for anything from Conversational French to Photography to Memoir Writing or you could kill the proverbial two birds with one stone and get yourself into an exercise class. No matter what you choose to pursue, your classmates are pretty much guaranteed to share your interest. That's a built-in icebreaker for forming fresh and lasting friendships. Incidentally, don't rule out getting close to people of all generations. Being with someone your own age who shares your memories of decades past can be nice, but being around younger people is interesting as well. Also, pals who are older than you are may give you a wonderful life perspective. So go ahead and mix it up!
Consider Online Dating 
Even if you currently feel that you don't want to get married again, and even if you're not ready for a romantic relationship, the dating sites can be a boon for your social life. You may find a man who shares your interests and is comfortable with a friendship status that doesn't involve, well, getting involved. You may also get to know some terrific women who could become your BFFs. Of course, you might surprise yourself and find the next love of your life. Here at ThirdAge, we have a safe and effective site called www.BetterDate.com. Why not give it a try?
A final note: Loneliness is often worse during holidays or when anniversaries of important life events roll around. With Valentine's Day fast approaching, you may be thinking about hiding out rather than looking like a loser on an occasion when men are rushing past you carrying bouquets of roses and heart-shaped boxes of candy. That's understandable, but this may be the perfect time to face down your feelings of solitary confinement by trying one of our suggestions for getting back in the game. The ideal is to find the perfect balance between the sweet solitude you wished for back when you were busy with your family and the comfort that comes from having people in your life who care about you. With a little effort, we know you can do just that!
Sondra Forsyth is Co-Editor-in-Chief ThirdAge.com.