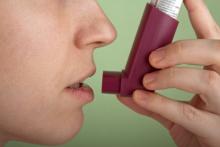 Asthma Medicine Definitively Linked to Bone Loss
Scientists appear to have definitively established a new risk factor for bone loss: asthma.
According to a study published in Annals of Allergy, Asthma & Immunology, there is a definitive connection between the use of corticosteroids and loss of bone mineral density.
"We know prolonged use of corticosteroids in the treatment of asthma is a risk factor of osteoporosis, but we haven't had definite data showing the relationship between asthma itself and bone loss," said Jae-Woo Jung, MD, lead study author. "This study has shown a meaningful association between the two conditions."
In the study, researchers in Seoul, South Korea analyzed more than 7,000 patients, including 433 who had asthma. The lumbar, spine and femur bone density was significantly lower in participants with asthma.
Allergist John Oppenheimer, MD, associate editor of the Annals of Allergy, Asthma & Immunology, said that other reasons can include "low levels of vitamin D or even race. This research has unveiled findings that need be further studied."
It's generally accepted that oral corticosteroids are the most effective in treating asthma. Allergists customarily the lowest possible dose. Ideally, the medicine is inhaled rather than taken orally.
Oppenheimer cautioned that patients should not stop taking corticosteroids because of this latest study.
"Asthma is a serious disease that can be life-threatening," said Dr. Oppenheimer. "It is important that those with asthma and other breathing problems continue their prescribed treatment."
For more information about asthma, visit AllergyAndAsthmaRelief.org. ACAAI allergists hold free asthma and allergy screenings across the country. To search for a screening, visit www.acaai.org/nasp.