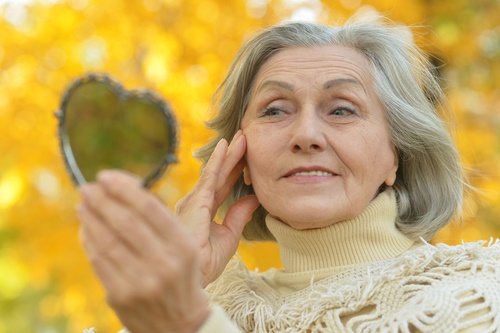 Aging Well
The Beauty of Aging
by Eve Marx
How did I feel seeing Joni Mitchell's 71-year-old face splashed across the cover of a national magazine? What was my reaction to the image of writer Joan Didion's 80-year-old visage shilling for the designer Celine? Was it shock? Amusement? Was it indignation I felt, or was it a touch of jealousy? I'm still sorting out how I feel, as I imagine are many other older women.
In the world of advertising, the use of older beauties isn't unusual, in particular the ones who were considered in their younger days to be rebels, style icons, and the epitome of cool. In 2010, former covergirl and super model Lauren Hutton, then 67, got a load of press when she became a J. Crew model, a line of clothing not traditionally pitched to the older set. At 65 the singer Stevie Nicks of Fleetwood Mac fame, her hair still blond and hanging to her waist, has been widely photographed as she makes headlines reuniting with her band. Cindy Joseph, 63, a former model turned make-up artist, is having the time of her life promoting Boom!, her line of natural cosmetics with a pro-age message.
So you'd think I'd have been better prepared for Joni's and Joan's images implying that wrinkles, wattles, and thinning hair are timelessly cool and that we all should look to them as a model of aging with character and grace. (For the record, I'm not badmouthing either Joni or Joan. I'm a fan of both. Each is amazingly talented and has an impressive output that reaches across decades.)
I asked a few 55-and- up friends how they felt about the Joni and Joan promotions. While not specifically advertising any products, Joni's New York magazine piece made sure to take note that Mitchell was wearing a necklace designed by Elsa Peretti for Tiffany. Duston Spear, a 60-something artist whose work has been on display at the Met, said she loves seeing the well earned age on a woman's face. "I love seeing life lines. Bring it on," Spear said.
A childhood friend now living in California said she didn't care for the Joan Didion for Celine at all. In fact, she seemed incensed. "No like," my friend said after seeing the image plastered all over social media. "Didion is ridiculously skinny; she looks like she has a terminal illness," she said. She acknowledged that the choice of Didion might have been perfect for Celine, a label that's been praised by Vogue as "cool minimal." "For all I know," my friend said, "this is perfect for them."  As for the Joni cover, my California friend said, "I don't think Joni's ever been beautiful in the traditional sense; she was not so even in her youth, but, to me, she still projects a certain dignity, pride, and hard-won strength."
Quite a few friends in New York commented on Joan Didion's look being more suited to an anti-smoking campaign. "She's still elegant but she's skinny to the point of haggard; this is a smoker's face," said a friend I've known since high school. A realtor friend said, "I saw the New York magazine cover and the photos of Joni Mitchell depressed me. I read an interview with her recently where she said she demonstrated a hardened outlook on life and never smiled. To me, a happier attitude later in life exudes beauty."
"Old is the new black," is a popular expression right now. But what kind of old?
If we listen too much to social media, advertisers and some magazines, "old" is strictly chic, graceful and full of character.
And that view can be a relief to anyone (myself included) who grew up in an era when older women were devalued, mocked and ignored. But I wonder if there's a flip side to all the vigorous praise of age–if maintaining chic and grace has now just become one more thing to chase after as we get older.
In other words, it's OK to grow older as long as you grow older in the right way – "gracefully," as it's known. Keep exercising, eating well, looking good, finding new interests, making new friends, going new places. All of which is great, except sometimes when you're older (or even just plain old), all you want to do is relax and watch some TV shows you've seen dozens of times before.
I'm not sorry that advertising campaigns and magazine covers are directed toward old women. There's a market there: As the population ages, women continue to be consumers of fashion, beauty products, and jewelry. So why not talk to them?
At the end of the day, I am pleased Joan and Joni and Lauren and Stevie are considered glamorous. And maybe I am just a little bit jealous, wishing at 60 to be less invisible to the world.
I want to appreciate how I'm aging without resorting to Botox. I want to love myself, even the wrinkled, crepey parts. How do I feel about being wantonly manipulated by the inference that at my advancing age, I should buy jewelry that will make me look cool and chic? I say that if I can afford it, and I want it, I'll buy it – but I'll grow old in my own way.
Eve Marx is a writer and author of 7 books about femininity and female power. She is also a Reiki Master and lives in New York.