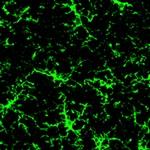 A Better Understanding of Memory Loss
Scientists have discovered how a lack of oxygen can interact with inflammation to cause memory loss in conditions like stroke and Alzheimer's disease.
The research, from the University of British Columbia, focused on microglia, part of a newly discovered brain mechanism that contributes to Alzheimer's.
Chronic inflammation and oxygen deficiency are hallmarks of several brain diseases. But until now, there hasn't been much known about how they contribute to symptoms such as memory loss.
The latest study used state-of-the-art techniques to reveal the movements of microglia. It shows that the combination of inflammation and oxygen deprivation activates microglia, which then weakens the connection between neurons. This phenomenon, known as long-term depression, is known to contribute to cognitive impairment in Alzheimer's disease.
"This is a never-before-seen mechanism among three key players in the brain that interact together in neurodegenerative disorders," says MacVicar with the Djavad Mowafaghian Centre for Brain Health at UBC and Vancouver Coastal Health Research Institute.
"Now we can use this knowledge to start identifying new potential targets for therapy."