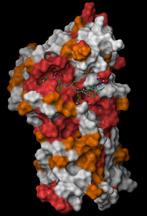 The Body's Anti-Cancer Weapon
Researchers have identified a pathway that works to prevent new cells from getting too many or too few chromosomes. That presence of abnormal numbers of chromosomes has been directly linked to cancer and other serious illnesses.
Mark Hall, associate professor of biochemistry, Purdue University, discovered that when cells are nearly finished dividing, the enzyme Cdc14 activates Yen1, another enzyme. Yen1 helps repair the DNA breaks that lead to cancer in cells.
"It only takes one cell to start a tumor," Hall said. "This study gives us a platform for figuring out exactly what these enzymes are doing in human cells and how they impact…the avoidance of cancer."
Previous research has linked Cdc14 to DNA damage repair, but until now it hasn't been known exactly how it regulates that process.
Hall and his fellow researchers used baker's yeast to reach their conclusion, because the enzymes in yeast and in humans are very similar.
He said that a greater understanding of Cdc14's process could be used to develop more effective chemotherapy.
"Developing Cdc14 inhibitory compounds could make certain cancer treatments more specific and potent," Hall said.
The paper was published in the journal Molecular Cell.