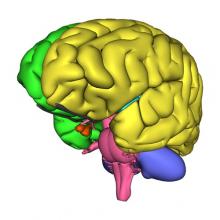 "Brain Marijuana" Can Help with Dementia
The protein beta-amyloid, long suspected to play a key role in Alzheimer's, may begin its destructive process by blocking marijuana-like substances in the brain.
A study by researchers from the Stanford University School of Medicine focused on the blocking of endocannabinoids in the early stages of Alzheimer's. Endocannabinoids are signaling substances that are the brain's versions of the psychoactive chemicals in marijuana and hashish.
As a result of the discovery, the investigators are now focusing on the molecular details of exactly how the blocking occurs.
In the study, published in the journal Neuron, researchers analyzed beta-amyloid's effects on a region of the brain known as the hippocampus. The hippocampus is the center of memory and location.
"The hippocampus tells us where we are in space at any given time," said Daniel Madison, PhD, associate professor of molecular and cellular physiology and the study's senior author. "It also processes new experiences so that our memories of them can be stored in other parts of the brain."
Using brain tissue from rats, Madison and his associates looked at a key hippocampal circuit to see how the circuit's elements reacted to small amounts of beta-amyloid. They found that in those small amounts, beta-amyloid weakens a process that manufactures endocannabinoids and improves communication in the brain.
Madison cautioned, though, that there's no point in smoking marijuana to ward off the effects of beta-amyloid.
"Endocannabinoids in the brain are very transient and act only when important inputs come in," said Madison, who is also a member of the interdisciplinary Stanford Bio-X institute. "Exposure to marijuana over minutes or hours is different: more like enhancing everything indiscriminately, so you lose the filtering effect. It's like listening to five radio stations at once."