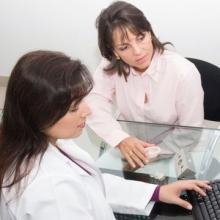 Breast Cancer
Breast Reconstruction: Making the Decision
Every woman who has a mastectomy is then faced with another choice: whether to have breast reconstruction – surgery to rebuild the shape of the breast. There are other choices, according to the National Cancer Institute (NCI): to wear a breast form, or padding, or to do nothing.
These choices are very individual ones, and there's no correct one for every woman. But women may have particular concerns about breast reconstruction because it is a surgical procedure. Here, from the NCI, are some facts you should know about breast reconstruction and some suggestions about what to ask your doctor before deciding on the operation:
*Breast reconstruction can be done at different times. A woman and her physician may decide to have it done at the same time as the mastectomy, or after it. The NCI says that if radiation therapy is part of treatment, some physicians will suggest waiting until after that treatment is complete.
*The NCI recommends that you talk to a plastic surgeon before the mastectomy, no matter when you would plan to have a breast reconstruction.
A surgeon can reconstruct the breast in many ways. Some women choose to have breast implants, which are filled with saline or silicone gel. The NCI says you can get information about breast implants at the federal Food and Drug Administration's website, www.fda.gov.
A surgeon can also create a breast shape using tissue that's taken from another part of the body. He or she can use skin, muscle and fat from your lower abdomen, back, or buttocks, the NCI says.
Age, body type and the kind of cancer surgery you had are all factors in the kind of reconstruction that's best for you, according to the NCI.
Assuming you do want to go ahead with breast reconstruction, the NCI suggests you ask a plastic surgeon these questions:
*Which type of surgery would give me the best results? How will I look afterward?
*When can my reconstruction begin?
*How many surgeries will I need?
*What are the risks at the time of surgery? Later?
*Will I have scars? Where? What will they look like?
*If tissue from another part of my body is used, will there be any permanent changes where the tissue was removed?
*What activities should I avoid after surgery? When can I return to my normal activities?
*Will I need follow-up care?
*How much will reconstruction cost? Will my health insurance pay for it?
Deciding whether to have breast reconstruction is a significant choice. The better acquainted you are with the risks and benefits, the happier you're likelier to be with your decision.
For the NCI's free booklet, "What You Need To Know About Breast Cancer, visit http://www.cancer.gov/cancertopics/wyntk/breast.