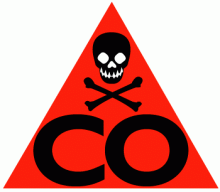 Carbon Monoxide: Preparation Is the Key to Protection
By Morgan Ellsworth
As you age, your body becomes more vulnerable to carbon monoxide. And for people who have heart problems, breathing disorders or sickle cell anemia, exposure becomes even more hazardous.
Carbon monoxide is an odorless, tasteless gas that can be emitted from a variety of household sources, including space heaters, gas stoves and furnaces. Carbon monoxide is sometimes called a "silent killer" because it can overpower you before you even know that it's there. The Centers for Disease Control and Prevention reports that more than 400 Americans die from accidental carbon monoxide poisoning each year.
Just last year, three people died from carbon monoxide poisoning in a hotel in Boone, N.C. These incidents were both tragic and frustrating because at the time North Carolina was among the states with no regulatory requirements for carbon monoxide detectors in hotels and other places of lodging. Fortunately, this incident prompted North Carolina legislators to pass a law that went into effect October 1, 2013 requiring hotels to install carbon monoxide detectors. Although this development may be encouraging, it is still disturbing to think that more than 20 states continue to lack such a commonsense policy. Carbon monoxide laws need to be reformed in all states to prevent additional needless deaths. In the meantime, you can follow the advice in this article to decrease your risk at home
You can easily prevent CO poisoning.
The truth about carbon monoxide poisoning is that you have many ways to defend yourself against this toxic gas. Carbon monoxide detectors are relatively inexpensive and simple to install. You can buy them at home goods stores or from security companies. Smoke detectors, such as the ADT Fire Alarm should be used in conjunction with CO detectors for maximum protection.
Here are a few easy ways to help protect your family and home from carbon monoxide exposure:
*Install CO detectors near bedrooms– Place at least five feet above the floor, away from fireplaces.
*Never use a gas oven to heat your home.
*Don't use portable catalytic heaters (also known as flameless chemical heaters) indoors.
*Chimneys, wood-burning stoves and furnaces should be inspected and cleaned at least once a year, especially before you start using them on a regular basis during the colder months.
Escaping a silent killer takes a little preparation or a lot of luck. Don't leave your safety to chance!
Megan Ellsworth is a content contributor at Home Security System.