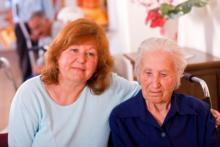 Caregivers and Exercise
According to Sherri Snelling, ThirdAge contributor and founder of The Caregiving Club (www.caregivingclub.com), there are 65 million family caregivers in the United States. It's no surprise that many of them, alone with that emotionally and physically draining task, become depressed. In turn, that can lead to unhealthy lifestyle choices such as failure to exercise, bad eating habits and tobacco and alcohol use.
But it's crucial that caregivers take care of themselves – both for their own sake and the sake of their loved one. Finding some time to exercise is a good start.
According to experts from the National Institute on Aging, physical activity can help you increase your energy level so you can keep up with your caregiving tasks. It can also reduce depression and stress. The benefits are especially substantial for aging caregivers, the NIA says. Exercise can help that group improve physical strength and fitness. It can also work to prevent serious conditions such as diabetes, heart disease, and osteoporosis. And it can even help some aspects of cognitive function, such as the ability to shift quickly between tasks and activities.
Here, some suggestions from the NIA on how caregivers can start to be physically active:
*Take exercise breaks throughout the day. Try three 10-minute "mini-workouts" instead of 30 minutes all at once. (Editor's note: Don't feel you have to exhaust yourself. Talk to your doctor about what theright level of exertion is for you).
*Make an appointment with yourself to exercise. Set aside specific times and days of the week for
*Exercise with a friend and get the added benefit of emotional support. You'll feel less isolated, too.
*Ask for help at home so you can exercise.
*If possible, find ways to be active with the person you're caring for. Both of you can benefit from physical activity!
For more information on senior fitness, visit the NIA's Go4Life program: http://go4life.nia.nih.gov/