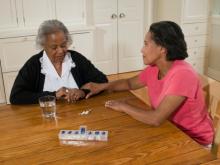 Caregiving Doesn't Cause Depression
A caregiver's depression appears to be related to family and genetic factors more than the difficulty of the caregiving itself, according to a new study.
Researchers from the University of Washington analyzed 1,228 female twins. Some were caregivers and some were not.
When it comes to life's stressors, most people would put caregiving at the top of the list. But according to Peter Vitaliano, a professor of psychiatry and psychology at UW, there never have been data actually showing caregiving causes psychological distress.
The study, published in the Annals of Behavioral Medicine, showed that the associations between caregiving and different types of psychological distress (depression, anxiety, perceived stress and perceived mental health) depend largely on a person's genes and upbringing – and less so on the difficulty of caregiving.
If someone suffered from depression pre-caregiving, that difficult task "may be like putting salt on the wound," said Vitaliano. Caregivers who don't have a history of depression appear to be no more affected by their task than noncaregivers.
Vitaliano said these results break the long-held belief that caregiving directly causes distress.
By examining twin pairs – both identical and fraternal – UW researchers evaluated the extent psychological distress is related to caregiving, or caused by common genes and environmental exposure.
The study comes out as chronic diseases are rising rapidly. As a result, more and more people will become caregivers. Vitaliano hopes that treatment interventions and policies will be targeted towards caregivers who are at the highest risk.