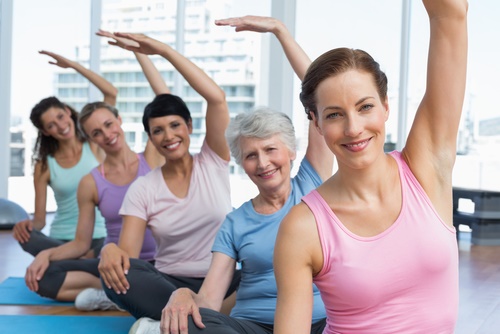 Celebrate National Yoga Month!
Yoga, once a relatively unknown practice that many considered exotic, has gone so mainstream that September has been declared National Yoga Month. According to the federal Centers for Disease Control (CDC), more than 13 million adults in the U.S. practice yoga. And the number seems to be growing.
People have several different reasons for taking up a yoga practice: the National Institutes of Health (NIH) says that 10.5 percent use yoga for helping musculoskeletal conditions; 16 percent for treating specific conditions and 58 percent to maintain health and well-being. Of those using yoga to treat a specific condition, the NIH says, 22 percent are doing so on a doctor's recommendations.
The number one reason people use yoga, according to the National Center for Complementary and Alternative Medicine (NCCAM), is lower back pain. And the practice is effective: Studies have found that people who practice yoga for low back pain suffer significantly less disability, pain and depression after six months than do those who undergo standard care.
To get the most benefit from yoga, it's important to learn it from a good teacher and to do it correctly. So before you start doing the downward dog on your new mat, the NCCAM has some suggestions that can help:
Talk to your doctor before you start a yoga program. He can tell you what kind of yoga you are ready for, and even whether it will work for you medically: Although yoga has proven effective for lower back pain, there's no sound evidence that it works for asthma, osteoarthritis and rheumatoid arthritis. Some kinds of yoga, such as "hot" or Bikram yoga, are practiced at very high temperatures (105) and may well be harmful to people who have heart disease, lung disease, have a history of heat stroke, or who are pregnant.
Certain yoga poses should be avoided by people who have high blood pressure, glaucoma, sciatica or who are pregnant, have sciatica (pain, weakness, numbing, or tingling that may extend from the lower back to the calf, foot, or even the toes), or are at higher risk of stroke, should modify or avoid some yoga poses.
Don't use yoga to substitute for regular medical care.
Ask your doctor or local hospital for the name of an experienced, reliable yoga teacher. The NCCAM says that it's important to check a teacher's training, since program times can range from a few days to more than two years. One nonprofit group, the Yoga Alliance, requires at least 200 hours in training including techniques, teaching methodology, anatomy and physiology. You can visit their website, www.yogaalliance.org, to find out more.
Tell all your health-care practitioners about the complementary approaches you are using, including yoga.
Ongoing research could yield findings that will make yoga beneficial for even more people, including those with HIV; menopausal symptoms; multiple sclerosis; post-traumatic stress disorder and smoking cessation.
For more information, visit NCCAM's website, www.nccam.nih.gov.