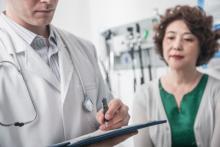 Women's Health
Cervical Cancer Screening Guidelines May Be Wrong
A study has found that cervical cancer rates are higher than previously believed, especially among women 65 and older as well as African-American women in all age groups. The finding brings into question current screening guidelines that don't recommend Pap smear screenings for women 65 and older.
The study, led by researchers from the University of Maryland School of medicine, was published in the journal Cancer.
Earlier research had found that the incidence of cervical cancer was about 12 per 100,000 women. But these estimates included women who had hysterectomies in which the lower part of the uterus, the cervix, was removed. However, by eliminating that factor, the University of Maryland researchers found that there was a rate of 18.6 cases of cervical cancer per 100,000 women.
And they concluded that the illness, diagnosed through the Pap smear technique, peaked steadily with age, specifically in women 65 to 69 years old. The previous research said that the illness peaked at 40-44 years old. The rate for African-American women was 53 per 100,000 in the 65 to 69 year old age group, while the rate for white women in the same age group was 24.7 per 100,000. African-American women had higher cervical cancer rates at nearly all ages compared with white women.
The researchers said that the differences between African-American and white women could be due to the fact that African-American women have a higher rate of hysterectomies.
"Our corrected calculations show that women just past 65, when current guidelines state that screenings can stop for many women, have the highest rate of cervical cancer," said the study's lead author, Anne F. Rositch, Ph.D., M.S.P.H., an assistant professor of epidemiology and public health at Maryland's School of Medicine. "It will be important to consider these findings when reevaluating risk and screening guidelines for cervical cancer in older women and the appropriate age to stop screening."
E. Albert Reece, M.D., Ph.D., M.B.A., dean of the school of medicine, said that "although we have made tremendous progress in preventing and detecting cervical cancer in its earliest stages, we may not have fully understood the incidence among older women and African-American women. This latest research underscores the importance of caring for a woman's obstetric and gynecological health throughout her entire life."