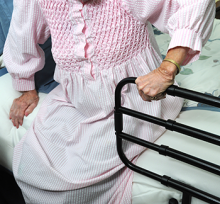 Check Bed Rails Often for Safety
substitute for the proper monitoring of patients," Todd says. "You need to check bed rails regularly to make sure they remain firmly installed, that the patient is using them for the intended purposes and to watch for areas of possible entrapment."
Here are some things to keep in mind if you are using adult portable bed rails.
*Make sure the person is a good candidate for using bed rails. Alternatives include roll guards, foam bumpers, lowering the bed and using concave mattresses which can help reduce rolling off the bed
*Remember that not all bed rails, mattresses and bed frames are interchangeable. Check with the manufacturer to make sure the different pieces you're using are compatible.
*Follow the manufacturer's instructions to ensure a proper fit (no gaps should exist between the rail and the mattress). Be aware that gaps can be created by an individual's movements, or a shifting of the bed's position.