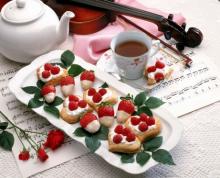 Chocolate, Tea & Berries May Prevent Diabetes
Chow down on chocolate, sip some tea, and eat lots of berries if you're hoping to avoid being diabetic. That's the advice of researchers at the University of East Anglia and King's College London who found that high intakes of phytochemicals called flavonoids and pigments called anthocyanins are associated with lower insulin resistance and better blood glucose regulation. The results were published in the January 21st issue of Journal of Nutrition. The team also found that the dietary compounds lower inflammation that is associated with diabetes, obesity, cardiovascular disease, and cancer.
A release from the University of East Anglia quotes lead researchers Prof Aedin Cassidy as saying, "Our research looked at the benefits of eating certain sub-groups of flavonoids . . This is one of the first large-scale human studies to look at how these powerful bioactive compounds might reduce the risk of diabetes. Laboratory studies have shown these types of foods might modulate blood glucose regulation – affecting the risk of type 2 diabetes. But until now little has been know about how habitual intakes might affect insulin resistance, blood glucose regulation and inflammation in humans."
The researchers studied almost 2,000 healthy women volunteers from who had completed a food questionnaire designed to estimate total dietary flavonoid intake as well as intakes from six flavonoid subclasses. Blood samples were analyzed for evidence of both glucose regulation and inflammation. Insulin resistance, a hallmark of type 2 diabetes, was assessed using an equation that considered both fasting insulin and glucose levels. . . What we don't yet know is exactly how much of these compounds are necessary to potentially reduce the risk of type 2 diabetes."