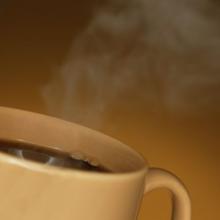 Vision Health
Coffee May Prevent Retinal Damage
Here's one more reason to enjoy your morning coffee: A study done at Cornell University and published in the May 2014 issue of the Journal of Agricultural and Food Chemistryfound that drinking a cup of joe every day may prevent retinal degeneration, a leading cause of blindness due to glaucoma, aging, and diabetes.
A release from the university reports that the scientists discovered that chlorogenic acid, a strong antioxidant in coffee, is the component that protects the eyes. The retina needs high levels of oxygen. Lack of oxygen and production of free radicals leads to tissue damage and loss of sight.
The release quotes senior author Chang Y. Lee, professor of food science , as saying that the study is "important in understanding functional foods, that is, natural foods that provide beneficial health effects. Coffee is the most popular drink in the world, and we are understanding what benefit we can get from that."
Previous studies have shown that coffee also cuts the risk of such chronic diseases as Parkinson's, prostate cancer, diabetes, Alzheimer's and age-related cognitive declines.