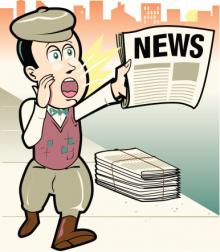 Coming Next Week! August 4th to August 8th 2014
Here's a sneak preview of the articles, slideshows, and blogs we'll be posting during the coming week on ThirdAge, the biggest and best site for "boomer and beyond" women since 1997. As always, we'll bring you the latest information from top experts about maintaining a healthy body, mind, and spirit as you navigate both the challenges and the joys of being a ThirdAger.
In addition, be sure to come back every morning to check out the ThirdAge Exclusives, We write them after culling the most important new academic and government studies from around the world that are making news that day.
We're your partner in making your life the healthiest and best it's ever been. Here's to you!
Monday, August 4th
Here's how to cope with grief when sorrow is overwhelming.
Is your hair thinning as you age? Watch our video for solutions.
Find out how to tell whether or not you need bifocals.
A neurosurgeon and fitness expert debunks workout myths.
Tuesday, August 5th
Don't let poison ivy spoil your summer fun! Read our safety tips for avoiding "leaves of three".
Dehydrated? These 7 foods will satisfy your thirst and hunger.
Here's now to live well with peripheral artery disease.
Blogger Sheryl M. Ness, RN recommends paying it forward with random acts of kindness.
Wednesday, August 6th
Is it strep throat? Here's how to tell.
Our video gives you the shopping list that could help you lose weight.
Learn the six important facts about pain.
Blogger Laura Lee Carter shares her experience with achieving long-term love.
Thursday, August 7th
How do you know your dietary supplement is safe? The Food and Drug Administration has the answer.
Rev up your sex life with these tried and true aphrodisiacs!
Don't miss these simple strategies that will let you recover like a younger you.
Blogger Jed Diamond offers five surprising reasons a good relationship is the best stress reliever in the world.
Friday, August 8th
Hitting the road this summer? Our video gives you great ideas for healthy snacks to bring along.
Backyard rodents and other wildlife can have rabies. The Centers for Disease Control gives advice for keeping your family and pets safe from this ravaging disease.
Blogger Sally Franz continues her series about getting married for the third time at 63 – and becoming the stepmother of a teenager!