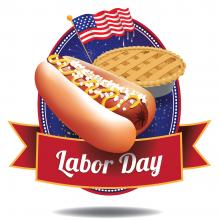 Coming Next Week! September 1st to September 5th 2014
Here's a sneak preview of the articles, slideshows, and blogs we'll be posting during the coming week on ThirdAge, the biggest and best site for "boomer and beyond" women since 1997. As always, we'll bring you the latest information from top experts about maintaining a healthy body, mind, and spirit as you navigate both the challenges and the joys of being a ThirdAger.
In addition, be sure to come back every morning to check out the ThirdAge Exclusives, We write them after culling the most important new academic and government studies from around the world that are making news that day.
We're your partner in making your life the healthiest and best it's ever been. Here's to you!
Monday, September 1st
Happy Labor Day from all of us here at ThirdAge to you and yours!
Tuesday, September 2nd
Waking up in the middle of the night? Here are four ways to get back to sleep fast.
Sherrie Campbell, Ph.D. teaches you how to maintain class through any life challenge.
Straight from the Mayo Clinic, we bring you 10 ways to control blood pressure without medication.
Don't miss this four-step plan for good health habits.
Blogger Donna Ryan shares the secrets of an older friend who lives life fully.
Wednesday, September 3rd
Ever wonder what a proper serving size really is? Our video shows you.
These 6 anti-aging secrets from beautiful women around the world will probably surprise you!
The National Institute on Aging gives advice about protecting yourself and your loved ones from falls.
Sending you last child off to college? Blogger Susan Tolles has 6 steps to soaring in the empty nest.
Thursday, September 4th
Top dermatologist Sanjiv Saini MD lets you in on 5 things your skin may be telling you about your health.
Welcome to our new series! Solving the Medical Riddle: "What's Wrong with me?" by Marie Savard MD let's you play health sleuth when a patient present with symptoms that stump the doctor.
Is his cheating affecting your health?
Blogger Nancy Anderson helps you find out how competent you are.
Friday, September 5th
Mickey Barber MD writes about what it means when swelling isn't so swell.
Our video tackles the topic of fighting the stigma of mental illness
Blogger Sally Franz continues her adventures at her camp reunion with a post she calls "Schmoozing with S'mores".