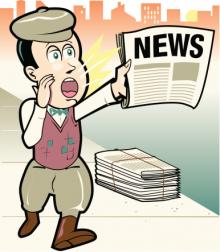 Coming Next Week! September 8th to September 12th 2014
Here's a sneak preview of the articles, slideshows, and blogs we'll be posting during the coming week on ThirdAge, the biggest and best site for "boomer and beyond" women since 1997. As always, we'll bring you the latest information from top experts about maintaining a healthy body, mind, and spirit as you navigate both the challenges and the joys of being a ThirdAger.
In addition, be sure to come back every morning to check out the ThirdAge Exclusives, We write them after culling the most important new academic and government studies from around the world that are making news that day.
We're your partner in making your life the healthiest and best it's ever been. Here's to you!
Monday, September 8th
Learn these tips for healthy eyes from the National Institute for Senior Health.
Our video shows you the steps to take to control Anxiety Disorder.
Is multitasking dangerous to your health? Roger Landry, MD says yes and offers five ways to work sequentially and quiet your "chattering mind".
We have an important psoriasis update from the Food and Drug Administration.
Blogger Susan Tolles teaches you how to take off your mask of depression.
Tuesday, September 9th
Are you a controlling spouse? Here's how to let go of the reins and be more loving.
Here's everything you need to know about successful dental restorations.
Spice Up Your Health! Learn which spices have the most health benefits.
Blogger Ellen Dolgen discusses the "ultimate booby prize", menopausal breast pain
Wednesday, September 10th
Find out how to elevate your gardening success.
Our video shows how ALS affects the body.
Learn about bone and joint problems associated with diabetes.
Blogger Laura Lee Carter says negative thoughts are bad for your brain.
Thursday, September 11th
Read the second installment in this month's Medical Riddle series and try to guess the diagnosis.
How do popular diets stack up? Dr. Kevin J. McLaughlin compares the leading weight loss plans.
Yes, you can enjoy sound sleep as you age!
Blogger Marijke Vroomen Durning RN says sepsis contributes to one in every 2 to 3 deaths and explains how to avoid this killer.
Friday, September 12th
Sick of kale? Our video gives you six healthy green superfood alternatives.
Don't miss these five brain-health tips from top neurosurgeon Brett Osborn MD.
Blogger Sally Franz continues her rollicking tales from a 50th (!) camp reunion.