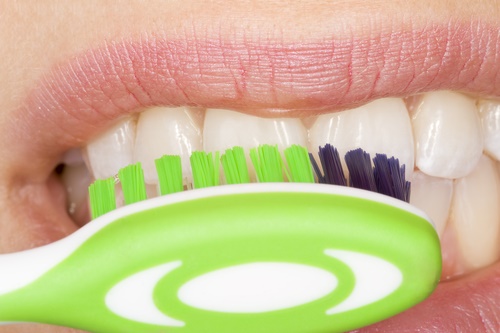 Dental Health
Oral Health
Could Your Dental Habits Use A Spring Cleaning?
If you have some questions about what might be best when it comes to keeping your mouth healthy and smiling, you're not alone. According to the national  DentalPlans' Annual SmileIndex Survey, people have many misconceptions about what is and isn't healthy for our teeth and gums.Keeping good dental habits is one of the easiest ways to maintain a healthy mouth and smile, says Bill Chase, vice president of marketing for DentalPlans, a leading provider of dental savings plans. But if you don't understand how to care for your teeth and gums, you may be doing more harm than good.
Here are some results from the survey, and what consumers get right and get wrong about dental care:
Brush Away: Most Americans report (nearly 60 percent) that they brush two times per day, mostly in the morning and at night. It's easy to do the math: 40 percent of Americans are not brushing the minimum twice a day.
Those who do brush their teeth in between their normal times do so after something gets stuck in their teeth (71 percent), before a date (46 percent), before giving a presentation or speech (23 percent), and after drinking coffee (21 percent).
Mind the Time:  The American Dental Association (ADA) recommends brushing your teeth for two minutes, two times a day. Just over 50 percent of national respondents report brushing one to two minutes, according to the DP SmileIndex Survey.
Keeping Clean In-Between:  The survey found that almost one-third of national respondents (33 percent) admit to not flossing at all, while 47 percent report that they floss at least once daily.
Reuse or Replace When it comes to replacing or reusing our toothbrushes, most respondents replace their toothbrush either every couple of months or every three to four months (71 percent) or when the bristles become frayed (16 percent), which is right in line with what the ADA recommends.
Where to Store the Brush The survey reports that 13 percent of respondents store theirs in a plastic sleeve. According to the Centers for Disease Control (CDC), storing a toothbrush in a covered, humid environment is more conducive to bacterial growth. A better choice is to rinse thoroughly after brushing with tap water and air-dry in an upright position.
Nineteen percent of respondents store their toothbrush in a cup on the countertop of the bathroom sink, but this could still present a problem.  The TV show Mythbusters reports that every time you flush a toilet, it releases an aerosol spray of tiny tainted water droplets. So if, like many people, you leave your toothbrush in the vicinity of a toilet it can leave your brush regularly bathed in bits of fecal matter.
If you are storing more than one brush together, even in a cup, keep them from touching due to the threat of cross-contamination. Thirteen percent of respondents reported storing their toothbrush with others.
What You Put in Your Mouth Matters: While most respondents know that soda (82 percent) and coffee (76 percent) are not good for your teeth, only 50 percent realize juice, wine (44 percent), and sports drinks (40 percent) are equally unfriendly to oral health.
And while apples (65 percent) and vegetables (64 percent) hit the top slots for healthy snacks, some respondents realized cheese (24 percent) and nuts (29 percent) are healthy alternatives as well.
DentalPlans, founded in 1999, is a leading dental and health savings marketplace in the U.S., helping more than a million people to affordably access quality healthcare services. Our mission is to empower consumers with the tools, information, and services that they need to live happier, healthier lives. For more information, visit www.dentalplans.com.