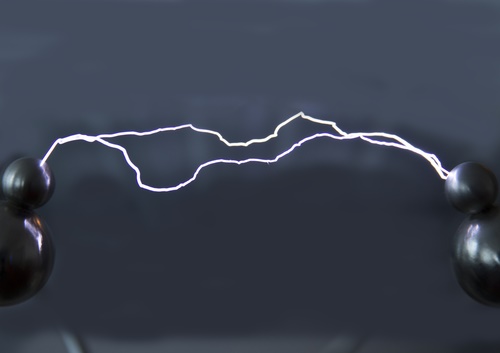 Creativity and Electricity
A dose of electric current can stimulate creativity by an average of 7.4 percent in healthy adults, researchers say.
Investigators from the University of North Carolina School of Medicine provided the first direct evidence of the benefits of the therapy.
This research, published in the journal Cortex, showed that using a 10-Hertz current run through electrodes attached to the scalp enhanced the brain's natural alpha wave oscillations – prominent rhythmic patterns that can be seen on an electroencephalogram, or EEG.
"This study is a proof-of-concept," said senior author Flavio Frohlich, PhD, assistant professor of psychiatry, cell biology and physiology, biomedical engineering, and neurology. "We've provided the first evidence that specifically enhancing alpha oscillations is a causal trigger of a specific and complex behavior – in this case, creativity. But our goal is to use this approach to help people with neurological and psychiatric illnesses. For instance, there is strong evidence that people with depression have impaired alpha oscillations. If we could enhance these brain activity patterns, then we could potentially help many people."
Frohlich, who is also a member of the UNC Neuroscience Center, is now in collaboration with David Rubinow, MD, chair of the department of psychiatry, to use this particular kind of brain stimulation in two clinical trials for people with major depressive disorder and premenstrual dysphoric disorder, or PMDD – a severe form of premenstrual syndrome. Participant enrollment is now underway for both trials.
"The fact that we've managed to enhance creativity in a frequency-specific way – in a carefully-done double-blinded placebo-controlled study – doesn't mean that we can definitely treat people with depression," Frohlich cautioned. "But if people with depression are stuck in a thought pattern and fail to appropriately engage with reality, then we think it's possible that enhancing alpha oscillations could be a meaningful, noninvasive, and inexpensive treatment paradigm for them – similar to how it enhanced creativity in healthy participants."