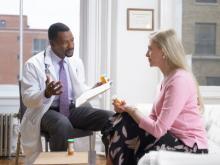 A Crucial FDA Warning
Citing the danger of liver disease, the Federal Food and Drug Administration (FDA) has asked doctors to stop prescribing medicines with a high dose of acetaminophen.
The agency said that there are no statistics to indicate the taking more than 325 mg of acetaminophen per dosage unit "provides additional benefit that outweighs the added risks for liver injury. Further, limiting the amount of acetaminophen per dosage unit will reduce the risk of severe liver injury from inadvertent acetaminophen overdose, which can lead to liver failure, liver transplant, and death."
Many prescriptions for opioids, including codeine and oxycodone, contain up to 750 mg of acetaminophen, according to the website Medscape Today. The problem is aggravated by the fact that patients can obtain additional acetaminophen over the counter.
The FDA also recommended that when pharmacists are asked to fill a prescription with a dosage-unit level of more than 325 mg of acetaminophen, they call the prescribing doctor and seek a more appropriate level of the drug.
In the future, the agency said, it plans to "institute proceedings" to remove prescription products containing more than 325 mg of acetaminophen.