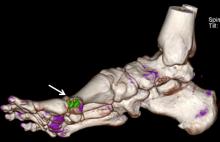 CT Scans Better At Finding Gout
Researchers from the Mayo Clinic have discovered a new way of diagnosing gout that doesn't involve needle aspiration.
Until now the painful form of inflammatory arthritis has been detected only through drawing fluid or tissue from an affected joint via a needle and looking for uric acid crystals. But needle aspiration doesn't seem to work as well as the one just developed by Mayo: X-rays known as dual-energy CT scans. According to a release from Mayo, the scans found gout in one third of patients who had tested negative for the illness.
The results are published in the Annals of the Rheumatic Diseases, the journal of the European League Against Rheumatism.
The scans worked especially well, the researchers said, in detecting gout in patients who had symptoms but were not diagnosed with the disease via needle aspiration. After the scans found the uric acid crystals, the patients were further tested through aspirates guided by ultrasound.
First author Tim Bongartz, M.D., a Mayo Clinic rheumatologist, said that misdiagnoses in patients had often led to "a completely different and… not effective treatment approach. And there were patients who remained undiagnosed for several years with, for example, unexplained chronic elbow or Achilles tendinitis, where the CT scan then helped us to pick up uric acid deposits."
Gout, often thought of as a man's disease, often manifests with a sudden sharp, burning pain in the big toe. After menopause, though, as many women as men get gout. Other joints, including knees, fingers, wrists and elbows, may also be affected.
Bogartz cautioned that the study results don't mean that CT scans should be the primary gout test. Needle aspiration still works well in most cases, and the study showed that they were more effective in patients having their first gout flare-up.
Five percent of adult African-Americans and 4 percent of whites in the U.S. have gout. Experts believe that the obesity epidemic is a major factor in the illness.