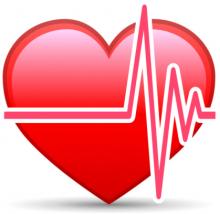 Heart Health
A Deadly Protein In The Heart
A genetic variant linked to sudden cardiac death leads to protein overproduction in heart cells, according to a new study. The discovery increases the understanding of sudden cardiac death and ways to prevent it.
The research, by scientists from Johns Hopkins, was published in The American Journal of Human Genetics.
"We think there will turn out to be many DNA variants that, like this one, cause disease by making too much or too little of a normal protein, " said Aravinda Chakravarti, Ph.D., a professor of medicine, pediatrics, molecular biology and genetics, and biostatistics in the McKusick-Nathans Institute of Genetic Medicine at the Johns Hopkins University School of Medicine.
Sudden cardiac death can be caused by a number of different conditions. But Chakravarti and his colleagues focused on one: abnormalities in cardiac repolarization, or the time it takes for the heart to beat again.
The team compared the genetic sequences of tens of thousands of people with the results of their electrocardiogram (ECG) results. As a result, they identified several genetic variants linked to lengthened incidence of cardiac repolarization. In other words, these variants reduced the potential for the heart to start beating again within a safe time.
The investigators homed in on one suspect gene called NOS1AP. The cultured rat heart cells and engineered them to overproduce NOS1AP. When the concentration of NOS1AP rose in a particular type of heart cell called a cardiomyocyte, the cells' electrical properties changed, making cardiac repolarization abnormal.
Sixty-seven percent of the general population carries the NOS1AP-overproducing genetic variant. "We have observed that NOS1AP genetic variants are associated with sudden cardiac death," said Ashish Kapoor, Ph.D., a postdoctoral researcher in Chakravarti's laboratory.
Further research is required to explore exactly why NOS1AP is a factor in sudden cardiac death.