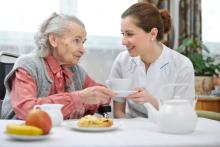 Dementia Drugs Not Always Necessary
Experts say a team-based approach to handling undesirable behaviors in dementia patients could lead to a reduction in the use of psychiatric drugs.
The approach is known as DICE – Describe, Investigate, Evaluate and Create. The researchers said they hope that using the DICE approach will create better teamwork among people who care for dementia patients at home, in hospitals and clinics and in residential facilities.
The panel of experts published their analysis in the Journal of the American Geriatrics Society.
Although psychiatric drugs may still help some patients, the researchers said, there are other approaches that could help reduce unwanted behaviors. Those behaviors, known as neuropsychiatric symptoms of dementia, include aggression, agitation and loss of inhibition.
"Often more than memory loss, behavioral symptoms of dementia are among the most difficult aspects of caring for people with dementia. These symptoms are experienced almost universally, across dementia stages and causes," says senior author Helen C. Kales, M.D., head of the U-M Program for Positive Aging and Geriatric Psychiatry at the University of Michigan Health System. "These symptoms are often associated with outcomes including early nursing home placement, hospital stays, caregiver stress and depression, and reduced caregiver employment."
Kales and her colleagues Laura N. Gitlin, Ph.D. and Constantine G. Lyketsos, M.D. from Johns Hopkins University authored the new paper on behalf of a group of experts, called the Detroit Expert Panel on the Assessment and Management of the Neuropsychiatric Symptoms of Dementia, who developed the DICE approach.
The components of the approach are:
D: Describe – Asking the caregiver, and the patient if possible, to describe the situations where problem behaviors occur and the physical and social context for them. Caregivers can take notes to share with health care professionals.
I: Investigate – Having the health provider examine all the aspects of the patient's health, dementia symptoms, current medications and sleep habits to see if they are linked to the behavior.
E: Evaluate – Giving the provider responsibility for assessing how well the plan is working.
Doctors should prescribe psychiatric drugs, the experts said, only after they've made substantial efforts to change the patient's behavior. The exception would be for patients who show severe depression, aggression that could harm themselves or others, or psychosis.
The authors say that doctors should prescribe psychotropic drugs only after they and the patient and caregiver have made significant efforts to change dementia patients' behavior through environmental modifications and other interventions, with three exceptions related to severe depression, psychosis or aggression that present risk to the patient or others.
"Innovative approaches are needed to support and train the front-line providers for the burgeoning older population with behavioral symptoms of dementia," says Kales. "We believe that the DICE approach offers clinicians an evidence-informed structured clinical reasoning process that can be integrated into diverse practice settings."