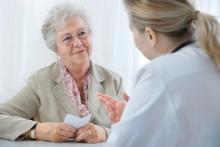 Depression and Lifestyle Changes
Discussing healthy eating habits with a nutrition coach was as effective as talk therapy in preventing major depression among older adults with mild symptoms of mood disorder, according to researchers at the University of Pittsburgh and the University of Maryland.
The findings, published in the journal Psychiatric Services, examined both black and white adults.
Senior author Charles F. Reynolds III, M.D., of Pitt's School of Medicine, said that treatments for depression often don't eliminate the symptoms that can cause disability. Sadness, fatigue and disinterest in activities that used to bring pleasure can leave patients isolated and unable to care for themselves.
"That's why we're very interested in finding ways to prevent the disease in those we know are particularly vulnerable," he said. "Avoiding episodes of major depression can help people stay happy and engaged in their communities, as well as reduce health care costs."
In the study, the team analyzed the effectiveness of problem-solving therapy for primary care (PST-PC), an approach delivered by non-mental-health professionals to help patients improve coping skills and confidence. They compared PST-PC to a program of dietary coaching for a similar number of visits.
The researchers found that the two approaches had identical results: about 9 percent of the people in each kind of treatment went on to experience an episode of major depression, but they all had a similar reduction in depressive symptoms over the two-year study. Both approaches were equally successful among black and white participants.
"This project tells us that interventions in which people actively engage in managing their own life problems, such as financial or health issues," Reynolds said, "tend to have a positive effect on well-being and a protective effect against the onset of depression."