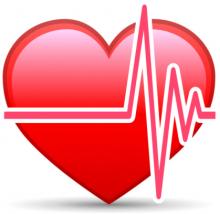 Heart Health
Device Can Improve Survival Rates Of Some Heart Patients
Investigators have found that implantable cardioverter defibrillators (ICDs) provide improved survival rates among a specific group of heart failure patients.
The findings, published in the June 4 issue of the Journal of the American Medical Association, focused on patients with left ventricular ejection fraction (LVEF). In LVEF, patients' left ventricles pump only 30 to 35 percent of blood from the heart with each contraction.
"Our findings fill an important gap in knowledge, as most randomized clinical trials of ICDs include heart failure patients with a median LVEF of well below 30 percent," said Sana Al-Khatib, M.D., MHS, the study's lead investigator and associate professor of medicine at Duke. "Given that a large number ICDs are implanted in patients with a LVEF between 30 to 35 percent, understanding outcomes in such patients is important."
ICDs are small devices implanted in the chest to monitor the heart's rhythm and deliver small electrical pulses to help treat heart rhythm disorders. Previous clinical trials have shown that ICDs are the best available therapy to prevent sudden cardiac death in patients with heart failure.
In the Duke study, researchers found that survival rate of patients with an LVEF of 30 to 35 percent was significantly higher in those with ICDs than in those without ICDs. When an ICD was implanted, the three-year mortality rate dropped from 55 percent to 51.4 percent.
In reaching that conclusion, the investigators analyzed data from the National Cardiovascular Data Registry, intended to track prevention ICDs implanted in Medicare beneficiaries. They compared patients in that registry with patients in another database. Those patients also had a LVEF of 30 to 35 percent but did not have ICDs.
"Until now, the association between the ICD and improved outcomes in patients with a LVEF of 30 to 35 percent was largely implied," Al-Khatib said. "Our results support current guidelines to implant prophylactic ICDs in patients with a LVEF of 35 percent or lower."