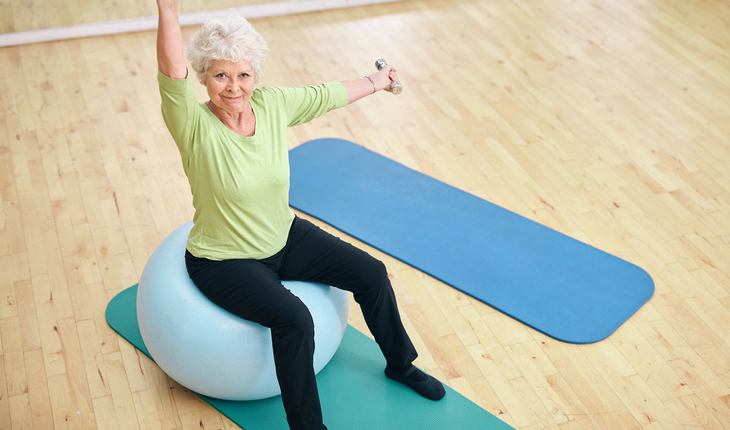 Exercise
Dipping into the Fountain of Youth: The Rewards of Regular Exercise for Senior Women
By Tangela Manual, Administrator, Pathways Memory Care at Villa Toscana, a StoneGate Senior Living community 
and Natalie Hooper, Chief Operating Officer, Rehab Pro 
It's been called the "fountain of youth" – and for good reason. Exercise delivers countless age-defying, health-enhancing, and life-extending benefits.
For senior women, regular physical activity is key to preventing such chronic conditions as heart disease and high blood pressure, strengthening bones and muscle tone, and avoiding the falls that land so many seniors in hospitals and nursing homes. It can also boost longevity and quality of life while lifting mood, staving off depression, and battling dementia.
Pursuing a well-rounded program
Researchers have found senior women can benefit from four types of exercise. In combination, these activities are a powerhouse for staying healthy and living fully:
Aerobic endurance. Aerobic activities, exercises that help circulate more oxygen in your blood, are critical to improving cardiovascular health and retaining brain and memory function. Activities can range from walking to dancing or any continuous activities that keeps your heart rate up.
Balance exercises. In the US, one in three seniors falls each year, often because of a decline in balance. Of those who fall, another one in three suffers moderate to severe injuries, from disabling hip fractures to traumatic brain injuries. Regularly doing a few simple exercises, such as Tai Chi – a centuries-old Chinese practice – can gradually improve balance, enhance coordination, and lower your risk of falling.
Flexibility training. Stretching is an essential part of staying nimble. To increase joint and muscle flexibility, more and more seniors are exploring yoga. This ancient art combines gentle, stretching movements with deep breathing techniques that can lower stress and deepen your sense of well-being. "Chair yoga" exercises and relaxation practices, which can be done without getting on the floor, are a good choice for those with mobility challenges.
Strength-building workouts. Between the ages of 50 and 70, women lose about 30 percent of their muscle mass – and another 30 percent is lost with each decade. Strength-building exercises, such as resistance training using elastic bands and free weights, improve muscle tone and can reduce age-related muscle loss.
Maximizing the mental benefits of exercise
Regular physical activity releases endorphins, the body's natural painkillers. The result? An elevated mood and lowered tendency toward depression. It's also a powerful antidote to social isolation. Exercise can open new doors to interaction and reduce feelings of loneliness, which are experienced regularly by nearly half of all older adults.
Studies have found that exercise also enhances memory, slows down mental decline, and reduces the risk of developing Alzheimer's disease. For those who have memory challenges, simple activities, such as walking, stretching, and completing routine household chores, can improve cognition – while building stronger muscles and more flexible joints that enable self-sufficiency.
Getting started
All the evidence points in the same direction: sedentary living makes aging worse, while regular exercise in the senior years delivers a host of physical, mental, and social benefits.
Check with your doctor before starting an exercise program. Craft a plan that's just right for your state of health, physical abilities, and fitness goals. Start slowly and build gradually. Include aerobic endurance, balance exercises, and flexibility and strength training as part of your routine. You can steadily achieve overall fitness with an investment of just 30 minutes a day – while the restorative powers of exercise will last a lifetime.