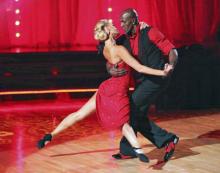 Exercise
Donald Driver Wins DWTS
The winner of Season 14 of "DWTS" is Green Bay Packer Donald Driver, and it's all over but the TV talk shows. One thing is for sure: this was the most satisfying seasons of "DWTS." The quality of the dancing was extremely high and this show has left an indelible mark on its fans. I think we'll expect more of future seasons.
I get tired of watching the same dances over and over, but I never get tired of seeing people take on physical challenges they didn't think they could endure. It's inspiring to know that 67-year-old Gladys Knight lost 60 pounds, for instance. "I'm going to keep Tristan. He can come over and work me out," said Knight. She used the Freshology meal delivery service and snacked on Power Bars and fruit at rehearsals. What a big change that will make in her health. She looked sexy and youthful in her dance with Tristan on the finale.
I realize for the celebs the stakes are high, as it is a chance to expand or restart a career. But I'm still impressed witnessing the perseverance of often pampered stars, and the cumulative health benefits of dance, not least of which is self-esteem. No matter who ultimately won, it's been a victorious season for a lot of the celebrity contestants.
We saw Katherine Jenkins become more personally confident as well as graceful and flawless in her dancing. Melissa Gilbert, although she did not go the distance, finally unleashed her inhibitions to do a sexy 3-way samba with the Chmerkovskiy brothers.
Skinny Maria Menounos actually gained six pounds during the competition, and I think it's because she has a will of steel. A lot of people had her pegged as someone who talks about stars, as an entertainment news personality, instead of being a star herself. But after seeing her dance through injuries that would have sidelined many, and enjoying the emotional story elements of her dances with Derek, I have a lot of respect for Menounos.
How can we carry over the tenacity and endurance of the amateurs and the connection that they find with dance through their partners' professional mentoring? I've started practicing classic Pilates, using the reformer table, tower, and other machines to improve my core strength and balance. It's not dancing, but I definitely feel more coordinated and graceful.
What will you do over the break from "DWTS"? You know you want to feel the same pride of accomplishment. Why not try a 5K run/walk? Or – if you are fearless – join a ballroom dance class.
Judy Kirkwood knew Donald would win but was still on the edge of the couch.
Judy Kirkwood writes articles for print and web publications – national, regional, and local; is a contributing writer to Simply the Best and Boca Raton Observer magazines in South Florida; and plays on the beach and in the pool year-round. Visit her on Facebook @JudysFlorida and please visit www.JudysFlorida.com.