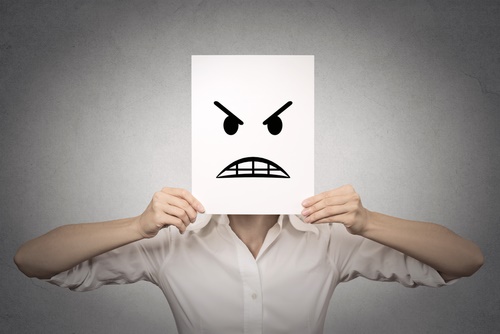 Mental & Emotional Health
Don't Blow Up! 4 Ways to Keep Your Temper
In the age of the cell-phone video, it's all too easy to permanently record bad behavior. We've all seen the viral video of the reporter berating a towing-company employee. Or, thanks to social media, we've heard about bad behavior, like the passenger who got kicked off a flight for repeatedly jabbing a snoring seatmate with a pen.
Most people don't behave like that. But there are still times when we're arguing with someone and suddenly feel our emotions spiraling out of control. How can we rein them in and avoid embarrassing ourselves (not to mention offending the other person)?
Jacqueline Whitmore, an internationally-recognized etiquette expert, author and founder of The Protocol School of Palm Beach, says it's crucial to step back before saying something you'll regret.
"In stressful situations, we tend to forget about our surroundings and focus more on how to get restitution without always thinking about the potential consequences," she says. "A bad situation can bring out the worst in even the most rational people."
Here are her tips for gracefully handling stressful situations:
Always be mindful of your surroundings. Cameras are everywhere these days. You never know who might be recording or taping you. A bad situation can become much worse if it goes viral and the whole world sees it.  It can cost you your job, or worse, your personal reputation.
Remember to be reasonable. Unfortunately, in stressful situations, we lash out at people who don't deserve to be treated that way.  Most of the time it's not even the person's fault.  For example, your food taking a long time to come out of the kitchen in a restaurant is usually not your waiter's fault, but we tend to put the blame on him. Or why yell at the gate agent because your flight is delayed by bad weather? The golden rule is always treat people how you want to be treated.
 Find better ways of airing your grievances. Instead of losing your cool and blowing up in public, find more productive ways of proving your point or getting results. If you're upset about poor customer service, send an email or write a letter to the company. The worst thing you can do, especially these days, is make a scene or public disruption.
Think before you speak.  Remember, what comes out of your mouth cannot be retracted. Once it's out there it's always out there. Think twice before you speak, even if emotions are running high. Step back from the situation and take a deep breath before you open your mouth because words have the power to hurt more than anything else.
For more information, visit www.etiquetteexpert.com  and www.jacquelinewhitmore.com.