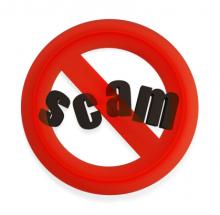 Aging Well
Don't Fall for Scams Targeted to Seniors
By Hilary Young
It's been estimated that over $2.6 billion was lost to scams that targeted seniors in 2013. Are you as shocked by that number as I am? In order to help you better protect yourself or your loved ones, I've put together a helpful guide to shield you from these rip-offs in 2014.
There are five popular scams that predators use to target seniors:
1) Lottery or Prize Collection. This is one of the most common scams in the U.S. Scammers use either direct mail, email, or phone calls to trick you into thinking that you've won the lottery or a big prize such as a free vacation on a luxury cruise line. If it sounds too good to be true, it usually is.
2) Grandchild Schemes. You might be contacted either via phone call or email by a schemer claiming to be your grandchild who is traveling and in desperate need of money. In a panic, people often wire or transfer money to the person claiming to be the grandchild without any due diligence about the situation.
3) Mortgage Tricks. In the wake of the financial collapse of 2008, it's imperative that you read all the small print associated with mortgage deals. You may have seen an onslaught of recent television commercials about reverse mortgages and while that type of mortgage isn't shady, it's important to keep an eye out for high or hidden fees that could end up wiping out your savings.
4) Medicare Fraud. If you are contacted and asked for confidential information by someone claiming to send you information about a Medicare benefit that you are entitled to, chances are the scammer is going to use that confidential information to steal your identity and reroute your benefits to themself. It's important to have a process in place to verify that the anyone asking for your information is a health professional you already know.
5) Medical Alert Device Scams. This was a popular scam for 2013 in which a fraudulent medical alert device company was contacting seniors about being eligible for a free medical alert system. The callers often claimed to be legitimate companies, such as Medical Guardian, and took down people's credit card numbers to "verify" their information". The scammers would then charge the unsuspecting "customer" the fee for a medical alert system.
Do's and Don'ts
Don'tgive out personal or financial information in order to collect a prize of any kind.
Do sign up for the National Do Not Call Registryto stop receiving bogus telemarketing calls. Call 888-382-1222 to register your phone number.
Don'tprovide your personal information, such as social security number, passwords, or bank account numbers, to anyone over the phone unless you have called the person for the express reason of fixing something for an existing account.
Do contact your local Attorney General's office to report any wrongdoing or fraud that you experience firsthand.
Don'tsign any documents that you don't understand or haven't read completely without having a family member or lawyer read through the documents first.
Docheck your credit score. Keeping on eye on your credit is an excellent way to stay on top of your financial situation. Annual Credit Reportis a free reputable resource you can use to check your credit score online.
Don't wire money to anyone without proof that you are actually sending it to the proper person.
Hilary Young is the Communications Manager for Medical Guardian. She began her career in television production in NYC and has worked for The Colbert Report, CollegeHumor.com and PlumTV. She blogs for HuffingtonPost and BlogHer.