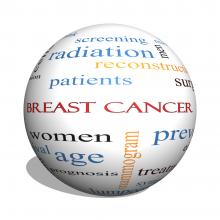 Breast Cancer
Double Mastectomy Doesn't Increase Survival
Many women diagnosed with cancer in one breast undergo a contralateral prophylactic mastectomy (CPM) to remove both breasts. Yet removing the unaffected breast has not been shown to increase survival, according to a study done at the University of Michigan and published online May 21st 2014 in Jama Surgery.
A release from the publisher reports the Society of Surgical Oncology suggests CPM be considered for a minority of patients at higher than average risk of developing cancer in both breasts, especially those patients with a genetic mutation or a strong family history with at least two first-degree relatives.
The authors conducted a survey of 2,290 women newly diagnosed with breast cancer and reported to the Detroit and Los Angeles Surveillance, Epidemiology and End Results (SEER) registries from June 2005 to February 2007 and again four years later from June 2009 to February 2010.
Of the 1,447 women (average age 59 years) in the sample, 18.9 percent strongly considered CPM and 7.6 percent had the procedure done. Of those who strongly considered CPM, 32.2 percent had the procedure, while 45.8 percent underwent unilateral mastectomy (removal of one breast) and 22.8 percent received breast conservation surgery to remove the cancer but not their breast. The majority of patients (68.9 percent) who underwent CPM had no major genetic or family risk factors. Among women who received CPM, 80 percent reported they had the procedure to prevent breast cancer in the other breast. Most women who had CPM also had breast reconstruction surgery. Undergoing CPM was associated with factors that included genetic testing, a strong family history of breast or ovarian cancer, higher education, and a greater worry about cancer recurrence.
Sarah T. Hawley, Ph.D., M.P.H. and colleagues wrote: "The growing rate of CPM has motivated some surgeons to question whether performing an extensive operation that is not clinically indicated is justified to reduce the fear of disease recurrence. Increased attention by surgeons coupled with decision tools directed at patients to aid in the delivery of risk and benefit information and to facilitate discussion could reduce the possibility of overtreatment in breast cancer."
In a related commentary, Shoshana M. Rosenberg, Sc.D., and Ann H. Partridge, M.D., M.P.H., of the Dana-Farber Cancer Institute, Boston, wrote: "Decision making surrounding early breast cancer, with respect to CPM in particular, provides an opportunity to encourage a supportive, shared decision-making approach. Not only should pros and cons of different treatment options be communicated, but there needs to be consideration of the patient's personal circumstances and perceptions, all the while addressing anxiety and concerns about breast cancer recurrence and new primary disease (and the distinction between the two). Finding balance around this issue, like the decision process itself, should be a goal shared by patients and clinicians alike."