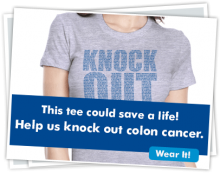 Dress in Blue Day: Colon Cancer Awareness
Friday, March 7th 2014 is the annual National Dress in Blue Day. The event takes place in conjunction with National Colon Cancer Awareness Month. A release from The Colon Cancer Alliance reports that one in 20 Americans will be diagnosed with colon cancer, leading to more than 50,000 deaths every year.
That's why the organization is urging individuals, businesses and community groups across the country to participate in the nationwide Dress in Blue Day.
The release quotes Eric Hargis, Colon Cancer Alliance CEO, as saying, "By simply wearing blue on March 7th, you could help save the life of someone you love. This simple act encourages people to talk to friends, family and coworkers about colon cancer and the importance of being screened. One conversation at a time, we're knocking colon cancer out of the top three cancer killers."
Dress in Blue Dayis held on the first Friday in March every year in communities and offices throughout the nation. The Colon Cancer Alliance first launched the program in 2009 to bring nationwide attention to colon cancer and to celebrate the courage of those affected by this disease. Today, thousands of people across the country show their support by wearing blue and hosting other unique events.