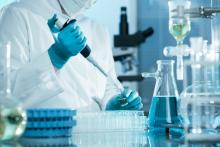 The Drug That Improves Anti-Cancer Viruses
Combining a widely used medication with a cancer-killing virus might improve the effectiveness of the virus in battling malignancies, according to a new study.
Researchers from The Ohio State University Comprehensive Cancer Center focused on the use of oncolytic viruses, which are designed to kill cancer cells. The virus has shown some effectiveness in clinical trials as a treatment for brain cancer and other solid tumors. The cell and animal study indicates that combining low doses of the drug bortezomib with a particular oncolytic virus might significantly improve the ability of the virus to kill cells during oncolytic virus therapy.
The study was published in the journal Clinical Cancer Research.
"These findings pave the way for a treatment strategy for cancer that combines low doses of bortezomib with an oncolytic virus to maximize the efficacy of the virus with little added toxicity," said principal investigator Balveen Kaur, PhD, professor and vice chair of research, Department of Neurological Surgery and Radiation Oncology. "Because bortezomib is already approved by the Food and Drug Administration, a clinical trial could be done relatively quickly to test the effectiveness of the drug-virus combination."
The investigators found that the combination treatment suppressed tumor growth by 92 percent when compared to controls. And six of eight tumors had completely regressed after 23 days of treatment.