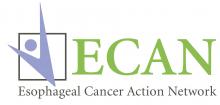 Esophageal Cancer Month, April 2014
April is Esophageal Cancer Awareness Month and ECAN, the Esophageal Cancer Action Network, is urging Americans to get the facts about this deadly disease, which usually isn't detected until it's too late.
Some basic facts about Esophageal Cancer in the U.S.
*Most cases of esophageal cancer in the United States are caused by the effects of GERD (Gastroesophageal reflux disease), where acid from the stomach moves back into the esophagus. The most common symptom of GERD is heartburn.
*Most people with esophageal cancer will eventually die of this disease because esophageal cancer is usually diagnosed at a late stage.
*Esophageal cancer is 3 – 4 times more common in men than women.
*The incidence of Esophageal Cancer increases with age – about eight out of ten people diagnosed are between ages 55 and 85 – but younger, healthy individuals may also be at risk.
*The American Cancer Society estimated that during 2013, about 17,990 new cases of esophageal cancer cases would be diagnosed in the United States and 15,210 deaths from esophageal cancer would occur – more deaths than those expected to be caused by melanoma.
Warning signs that you are MAY BE at risk for Esophageal Cancer
*You have more than occasional heartburn symptoms.
*You have experienced significant heartburn in the past, but the symptoms have gone away.
*You have a family history of esophageal cancer or Barrett's Esophagus.
*You have any pain or difficulty swallowing.
*You have a persistent, unexplained cough.
*You have been speaking with a hoarse voice over several weeks.
*You have a persistent, unexplained sore throat.
*You cough or choke when you lie down.
Through ECAN's efforts, April has been formally designated as Esophageal Cancer Awareness Monththroughout the United States. In addition to holding a variety of awareness and fundraising events, ECAN will distribute free Reach Out kits with posters, brochures and periwinkle blue wristbands saying, "Heartburn Can Cause Cancer" to be posted in heavily traveled areas like hospitals, churches/synagogues, offices and restaurants. To receive these kits or learn more about ECAN, its events and esophageal cancer, visit www.ecan.org.
About ECAN
ECAN's mission is to save livesby increasing awareness about the link between heartburn and cancer, promoting early detection and supporting medical innovation to prevent, detect and treat esophageal cancer. The Baltimore-based national non-profit organization is led by a board of directors of top physicians, business leaders and families that have been touched by esophageal cancer. Attorney and former journalist Mindy Mintz Mordecai founded the national non-profit organization after losing her husband and the father of their two young daughters to the disease in 2008.
Through ECAN's efforts, April has been formally designated as Esophageal Cancer Awareness Month in most U.S. states. ECAN also published the Guide for Patients and successfully advocated with the National Cancer Institute to include esophageal cancer in its groundbreaking genome mapping project known as The Cancer Genome Atlas. For more information, visit www.ecan.org.