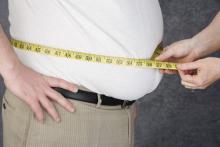 Estrogen May Affect Male Obesity
An imbalance of female hormones may contributing to obesity among men in Western nations.
In a paper published in the journal PLOS ONE, researchers from the University of Adelaide's School of Medical Sciences, in Australia, said that part of the massive weight gain among men could be linked with exposure to substances containing estrogen.
"Hormonally driven weight gain occurs more significantly in females than in males, and this is very clear when we look at the rates of obesity in the developing world," said medical student James Grantham, co-author of the study.
"However, in the Western world, such as in the United States, Europe and Australia, the rates of obesity between men and women are much closer. In some Western nations, male obesity is greater than female obesity. While poor diet is no doubt to blame, we believe there is more to it than simply a high caloric intake.
Products containing estrogen include PVC, plastics and soy. Co-author Professor Maciej Henneberg, Wood Jones Professor of Anthropological and Comparative Anatomy, explained that "exposure to estrogen is known to cause weight gain, primarily through thyroid inhibition and modulation of the hypothalamus.
Henneberg also points to small changes that could impact the levels of testosterone and estrogen in men. "This would certainly explain the various concerns about sperm count reductions among men in developed nations," he says.