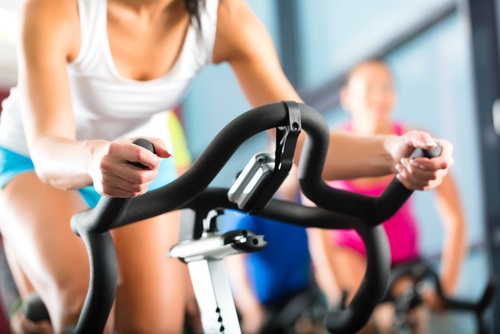 Exercise
Fabulous Fitness Destinations, Part II
I've already told you about some fabulous places to work out while you travel. (Click here to see my choices.) But why not take it up a notch? Here are some unusual spots to get your workout done while you are cruising, casino-ing or hanging out!
Mashantucket, Conn.
WHAT TO DO. Bowling, Hiking
I know what you're thinking. The only workout you can get at a casino is for your hand as it's giving away your money. I say put your cash back into your pocket, stick that hand into a bowling ball. Foxwoods, the largest resort casino in North America, houses High Rollers (https://www.foxwoods.com/high-rollers/), an upscale bowling and gaming lounge. You can burn up to 210 calories per hour as you strive to get your strikes and scores (not to mention the conditioning benefit picking up a 6-to-9 lbs. bowling ball). Foxwoods is also connected to several hiking trails in Connecticut's picturesque woods. I made my way to the outside exhibits of the Pequot Museum. Just follow the green fox paws on site for the easy trail like the scenic trail loop behind the Two Trees Inn, or the red paws for the more challenging Lantern Hill Trail that takes you up nearly 500 feet above sea level.
WHERE TO STAY. When it comes to having everything under one roof, Foxwoods has it covered. Hosing more than 2200 hotel rooms over four hotel spaces (https://www.foxwoods.com/hotels.aspx).  Walking from one end to the next could be a workout in itself! There are also several restaurants on the premises. That includes Cedars, a fine dining facility that serves fresh lobster and sea bass. I worked out in Grand Pequot's state-of-the art fitness facility, and then relaxed in its jacuzzi, adjacent to its spa pool.
Atlantic Ocean
WHAT TO DO. Dancing, Jogging
Gorging yourself on buffets and food stations is a prerequisite on any cruise ship. Thank goodness my Carnival trip offered dance classes every day to combat my 24-hour eating schedule. While at sea, I learned moves to Michael Jackson's "Thriller," an 80s-inspired Hip-Hop routine, Salsa and Funk dancing. If those classes weren't enough, there was a theme-inspired dance party almost every evening, where my cruise entertainment team led lively line dances and dance-offs. When I wasn't on the dance floor, I was up on the top decks jogging the 963 ft. length of the ship (five loops is approximately one mile), while enjoying a lush green view of the Bahamas.
WHERE TO STAY. When you're in the middle of the ocean, it's nice to have a room with a view. On the Carnival Pride (https://www.carnival.com), I stayed in the grand suite, which was big enough for my mom, who is 71 years old, to do her favorite walk aerobics DVD every day. The ship offers a full fitness facility and daily classes like spin, yoga and body conditioning for a fee, as well as morning stretch and abs classes at no charge. There are several swimming pools and some water slides that may scare the calories right off you. Once docked on land, take part in healthy excursions that can include snorkeling, horseback riding, biking and hiking in gorgeous Caribbean terrain.
CHICAGO, Ill.
WHAT TO DO. WALL CLIMBING, WALKING
Traveling to Chicago for business (or maybe for preciously scored Hamilton tickets), there's no reason to abandon your daily fitness regimen. That's why I can't wait to visit Lakeshore Sports and Fitness (http://www.lakeshoresf.com/), at Illinois Center, a 120,000-plus sq. foot facility that can't be called just a gym. Lakeshore offers more than 100 classes weekly, an eight-lane indoor pool, a basketball court, a golf simulator, and what's catching my eye – its indoor climbing wall, which towers ten stories, making the tallest climbing wall in the country. After a one-hour required orientation, you can tackle an adventure that's guaranteed to challenge all major muscle groups, especially your core. If you prefer to stay grounded, Chicago offers several opportunities to take yourself outside (the city's a pretty flat surface). There's a beautiful jogging trail 20 miles long from the city's north to south end. You can even do a marathon where you run on the tarmacs at O'Hare International Airport.
WHERE TO STAY. I'll be visiting Fairmont Chicago, Millennium Park (http://www.fairmont.com/chicago/) this winter, a hotel so dedicated to bringing health to its guests, it's partnered with Lakeshore Fitness to provide discounted passes – $20 daily – to enjoy the workout emporium's many amenities. Don't bother to put on a coat to get there. The two locations are connected by an elevator ride and underground tunnel that's just a half block distance. The hotel is also partnered with "Chicago Elevated," a walking tour hosted by resident comedian Margaret Hicks. I'm hanging with her for the "Badass Winter Tour," (http://www.chicagoelevated.com) starting in December, where I'll burn major calories to stay warm as I visit sites like Millennium Park and Lake Michigan. Afterwards, I'll dine at Fairmont – which has two restaurants and a pub on site offering locally sourced and organic dishes for breakfast, lunch and dinner. And just in case I miss my workout at Lakeshore, Fairmount hosts free fitness classes offered weekday evenings in one of its conference rooms. "We offer a different class each weekday evening for our employees and guests," says Colleen Sweitzer, Fairmont Chicago's Marketing Manager. There's a 24-hour fitness facility on site as well.