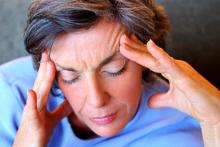 Women's Health
Fake Headache Treatment May Be As Good As the Real Thing
Patients who receive good information about the medicine they're taking do better than those who aren't given as many positive details, according to a new study of migraine sufferers.The study showed that patients' expectations of the drugs' efficacy – whether positive, negative or neutral – influence the effect of the medication even when the "drug" is a placebo.
A research team, led by investigators from Beth Israel Deaconess Medical Center, measured exactly how much pain relief is attributed to a drug's actual effect and how much to a placebo effect.The study investigators used the recurring nature of migraines to compare the effects of real medications and placebo treatments. Their findings included the following:
*The efficacy of the migraine drug Maxalt (rizatriptan) increased when patients were told they were receiving it.
*When participants were given placebo pills labeled as Maxalt, they reported a similar pain reduction to that of the actual drug.
*Even in instances when subjects knew they were taken a placebo, they reported more pain relief than when having no treatment at all.
For their study, the investigators analyzed more than 450 attacks in 66 patients with migraines. After a period of no treatment, patients recorded their symptoms and pain. Then the researchers gave them six labeled envelopes containing pills to be taken for the next six attacks.
Of the six treatments, two were made with positive expectations ( Maxalt"), two were made with negative expectations (envelopes labeled "placebo"), and two were made with neutral expectations (envelopes labeled "Maxalt or placebo"). The patients then documented their experiences
The authors were surprised to find that even when subjects were given a placebo that was labeled as "placebo," they reported pain relief, compared with no treatment.
The authors suggested that in the future, placebos may have a place in therapeutic drug treatments.