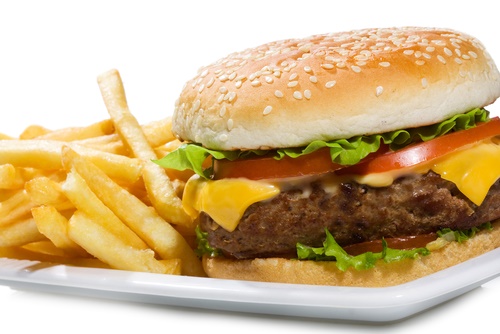 Weight Loss
Fast-Food Portions Haven't Gotten Any Bigger
Although the conventional wisdom is that restaurant portions have expanded over the years, that's not always the case, according to new reports from researchers at the USDA Human Nutrition Research Center on Aging (USDA HNRCA) at Tufts University.
The studies actually show very little changes in fast-food portion sizes between 1996 and 2013. The average calories and saturated fat were at constant (though high) levels as well. But there was a decline in the trans fat contained in fries.
"There is a perception that restaurants have significantly expanded their portion sizes over the years, but the fast food we assessed does not appear to be part of that trend," said study leader Alice H. Lichtenstein, D.Sc., director of the Cardiovascular Nutrition Laboratory at the USDA HNRCA.
However, that doesn't mean that fast food has gotten healthier. "For example," Lichtenstein said, "among the [three fast-food chains studied], calories in a large cheeseburger meal, with fries and a regular cola beverage, ranged from 1144 to 1757 over the years and among restaurants, representing 57% to 88% out of the approximately 2000 calories most people should eat per day.".
Still, there are ways even fast food can be improved. "The decline in trans fat we saw between 2005 and 2009 appears to be related to legislative efforts," Lichtenstein said. "The success of New York City's trans fat ban and others like it, suggest it is worth pursuing these types of approaches because they make the default option the healthier option.  Of course, it is important to note that the healthier option in terms of fat does not translate into lower calories or less salt."
The studies were published in Preventing Chronic Disease, a journal of the Centers for Disease Control and Prevention.