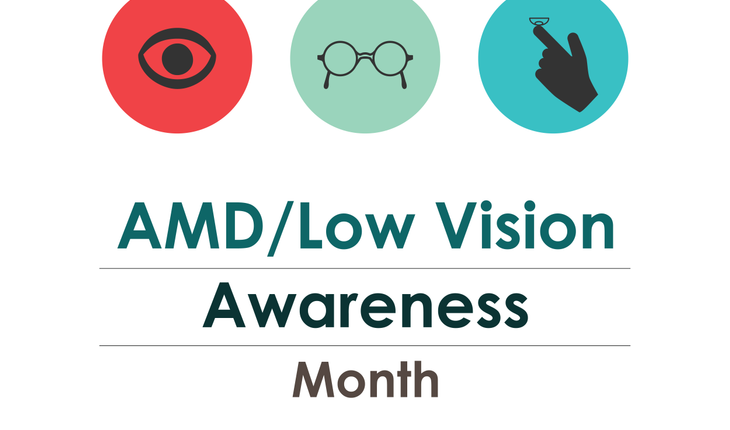 Age-related macular degeneration
Cataracts
Eye Health Overview
Glaucoma
Senior Health
February Is Low Vision Awareness Month: Tips for Managing Age-Related Vision Loss
As our population ages, the incidence of age-related conditions such as macular degeneration, glaucoma and diabetes is increasing. These conditions may result in vision loss that is not correctable with glasses, medication or surgery. A permanent decrease in visual acuity may make it difficult to complete everyday tasks – this loss of functional vision is called low vision. According to 2010 research by the National Eye Institute, the number of Americans with low vision will continue to grow dramatically, from 2.9 million in 2010, to 5 million in 2030, to 8.9 million in 2050. Chances are you or someone you know is living with low vision.
In response, the Low Vision Focus @ Hadley (LVF) program was created to address some of the difficulties caused by age-related vision loss. Instructional materials designed to assist those with low vision are available on our website, which offers relevant tuition-free distance education courses, monthly low vision-themed webinars, tips and resource lists. For those without a computer or Internet access, 10 free audio recordings are also available, which share practical ways to address daily living skills made difficult by vision loss. The recordings can be obtained on a Talking Book cartridge or CD by calling (855) 530-5355. They are also available for free digital download from the LVF website. Five free instructional companion videos to the 10 audio recordings will be launched on the website in February in honor of Low Vision Awareness Month. Ten additional companion videos will also post to the LVF website in the coming months.
Low Vision Focus @ Hadley is pleased to present these sample tips for people experiencing low vision:
Use tactile markers. Think about ways you can use your sense of touch rather than sight. Having trouble setting your stovetop controls? Mark the control settings with small dots of glue or clear nail polish that you can feel when dry. Put one dot on low, two dots on medium and three dots on high for easy-to-remember temperature settings by touch. Tactile marks are also handy for identifying food items. Canned goods, for instance, may be identified by using a system of rubber bands: one band around canned peas, two bands around canned corn, etc.  It's easy to create your own system that ensures you select the item you prefer.
Apply contrasting colors. Use a dark tablecloth with white plates to make dining easier. A dark cutting board for light colored foods and a light cutting board for dark colored foods will help with food preparation.  Door frames, trim and light switches may make navigation safer if painted in a color that contrasts with the walls around them. Are stairway steps difficult to see? Add a strip of contrasting colored paint or tape to the edge of each tread.
Adjust the lighting.  Designing appropriating lighting conditions for persons with low vision requires a reduction of overall ambient light corresponding with a greater use of task-specific lighting devices. Glare can be reduced significantly by ensuring that lamp shades are opaque and extend below eye level.  Shiny table surfaces may be covered with a cloth, and glare from windows can be controlled with curtains or blinds. When outdoors at night, carry a strong flashlight.
Stay organized. This is a cardinal rule.If you always store items in the same place, it will be easier to retrieve them. In particular, make sure you have an accurate system for organizing and identifying your medications.
Safety first. While reaching down to pick up dropped objects, keep your hand, palm out, about 12 inches in front your face. This way, you don't hit the edges of tables or countertops with your forehead. Get in the habit of consistently closing kitchen and bathroom cabinets, especially those above countertops.  Make sure doors are either all the way open or shut. Practicing both of these safety techniques can greatly reduce the risk of head injury. Area rugs can pose a hazard for persons with visual field loss. It's best to keep home pathways and work areas free of extra floor coverings.
Tips, information and support can reduce the impact of age-related vision loss. For more information on how the Low Vision Focus @ Hadley can help you or someone you know, please visit our website www.lowvisionfocus.org, or call (855) 830-5355 to find out about our free programs and materials.