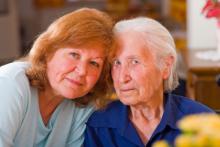 Financial Issues for Caregivers
By Hilary Young
While caring for a loved one may seem like the better, cheaper alternative to assisted living, there are actually many financial issues to consider. Understanding these issues and knowing how to cope with them is vital because people are now living longer than ever before and many family members will eventually take on the role of caregiver.
According to a National Vital Statistics Report released in January 2014, Americans now have a life expectancy of 78.5 years. Whether that's because of advancements in technology and research, better education, or just better genetics, a longer life can also mean a larger financial burden on families. To keep costs down, it is not uncommon for aging parents to expect their adult children to care for them.
In fact, it's been estimated by the Caregiver Action Network that there are currently more than 65 million people in the U.S. who are caring for "a chronically ill, disabled, or aged family member or friend during any given year and spend an average of 20 hours per week providing care for their loved one." They network estimates that the value of these free services totals over $375 billion a year.
Limit Your Liability
If you are tasked with handling finances and medical decisions for a loved one, it's important to limit your liability by putting legal safeguards in place.
First, work on creating a living will with your loved one. A living will is an essential legal document that details your loved one's wishes about his or her own healthcare, such as issuing a "Do Not Resuscitate" order, choosing a power of attorney who can make decisions for the patient should he or she be incapacitated, or simply a list of medical procedures the person does or does not want.
Consider applying for a court-appointed guardianship if your loved one is physically impaired, yet still capable, and requires the assistance of another person to care for daily needs and/or assets. According to the American Bar Association website, "a conservatorship may last for a definite or indefinite period of time and may be limited or unlimited. The appointment is voluntary, made upon the application of the individual, and preserves the individual's legal competency." A conservatorship usually is granted so that you can legally manage your loved one's finances.
The association also recommends that you should consider applying for a guardianship should you feel as though your loved one is no longer capable of making decisions alone. A guardian has "the legal authority and duty to care for another's person" and "may be limited or unlimited in scope and may cover the ward's personal care, financial assets, or both."
Navigating Medicaid and Veteran's Benefits
While it may seem like an added hassle to go through all of these legal channels just to pay some bills for your parent, taking those steps will remove potential challenges for you down the road. Situations in which you are receiving checks or cash from a parent in exchange for undocumented caregiving services can end up preventing you from being able to file for Medicare or Veteran's benefits that your parent would otherwise be entitled to.
When you file for Medicaid, you could be requested to provide five years of prior bank statements. If the statements show that there were many financial transactions between you and your parent, Medicaid could claim that your parent intended to divest herself of her assets in order to expedite eligibility for Medicaid. Even if you explain to the Assistance Office that the transactions were for services rendered, without a written contract to document that, the office will not grant you the Medicaid benefits your loved one should be receiving.
If the office does believe that the transactions were for your caregiving services, they might ask to see copies of your income tax returns to verify your story. But since many caregivers never report these exchanges to the government, having this conversation with the Assistance Office can actually cause more problems for you with the IRS.
Similarly, the Department of Veteran's Affairs provides both standard medical care coverage and long-term care coverage but in order to be eligible to receive either service, you have to submit your financial information for review.
Tie Up Loose Ends
So while you may think that you're just doing your duty as a child to take over caregiving responsibilities for a parent, you also are opening yourself up to a host of headache-inducing situations. Put in the extra time at the beginning of the caregiving process to get all of your ducks in a row. It will certainly help you avoid many roadblocks along the way.
Hilary Young is the Communications Manager for Medical Guardian. She helps to keep baby boomers and their loved ones educated about their health and wellbeing. She is also a regular contributer to the Medical Guardian Blog, the Huffington Post, and BlogHer.com.