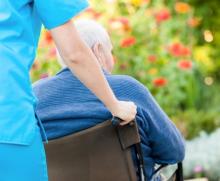 Frailty Means Greater Hospital Complications
Researchers have found that elderly patients who are frail are likelier to experience in-hospital complications following trauma. Previously, complications had been associated with age alone.
The investigators, from the University of Arizona Medical Center, Tucson, examined statistics from 250 patients according to the 50-item Canadian Frailty Index, which measures social and daily living activities, nutrition and mood.
Among the patients, whose average age was 78, 110 (44%) were frail. These patients were likelier than patients who weren't frail to have in-hospital complications – 37 percent versus 21 percent. The most common complication was a urinary tract infection. Other factors, including older age, male sex, and higher blood pressure also factored in to greater complications with some patients.
The findings were published in JAMA Surgery.