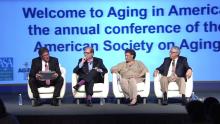 Aging Well
The Future of Aging, 2014
Here's a link to a video of the General Session from the 2014 American Society on Aging "Aging in America" Conference in San Diego. JoAnn Jenkins (AARP); Ken Dychtwald, Ph.D. (Age Wave); Joe Coughlin, Ph.D. (MIT AgeLab); and Fernando Torres-Gil, Ph.D. (UCLA) present their views about the future of aging.
The issues they address include whether we are we prepared for the longevity revolution and whether we can we afford to have tens of millions of us living to 80, 90 or even 100+. The presenters contend that if we apply science and technology to the challenges of aging and join forces with policymakers and leaders in business and communities, new purposes for maturity may be within reach. Other key points are
*Our existing entitlement programs must evolve and change to survive long enough to benefit younger generations.
*What are the opportunities for innovative design, new products & services, e.g., wellness services, smart home monitoring & maintenance, specialized foods, retail services, communications and financing to support caregiving and healthy aging – and what strategies will be necessary to ensure their adoption?
*What will become of the field of aging — contraction or expansion?