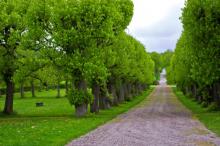 Getting The Most From Springtime Walking
With spring returning, most of us want to get out and walk, especially if we've been stuck at home for most of the winter. Springtime walking isn't just great exercise; it also lets us observe the beauty of a reawakening world. At this time of year, it's no wonder that people go outside urban settings and walk on country or unpaved roads. But as wonderful as that can be, rural and even some suburban walking have their own set of hazards.
Here, from the experts at Go4Life, a fitness program of the National Institute on Aging, are some tips to make springtime walking safe:
Wear sturdy shoes that will support you on rough or uneven surfaces.
When you walk, always face oncoming traffic.
Try to avoid rocky or unpaved surfaces, which can be destabilizing to balance. Look for a smooth surface alongside the road.
If there are guardrails, look to see if a smooth, flat surface is behind them, and walk on that. If the only way you can walk is on a paved shoulder, the Go4Life experts say, stay as far away as possible.
Watch for bridges,narrow shoulders or an abrupt end to the paved surface you're walking on. (Think of walking the way you think of driving – always stay alert and on the lookout for possible hazards.)
Be sure drivers can see you. Wear light or brightly colored clothing.
If you must walk during low-light hours—at dusk or dawn—be sure you have reflective material on your jacket or walking shoes and carry a flashlight.
Be careful when crossing the road. Look left, right, and left again before crossing. Don't assume drivers will stop. If there usually aren't too many pedestrians in the area, drivers may not be aware.
Look across all lanes you must cross and make sure each lane is clear before proceeding. Just because one driver stops, don't presume drivers in other lanes will stop for you.
Take along a cell phone, an ID and contact numbers, especially if walking alone.
As always, check with your doctor before beginning or resuming an exercise program.
For more information on senior fitness, visit http://go4life.nia.nih.gov/.